Painted Vs. Stained Cabinets: Which One's Better?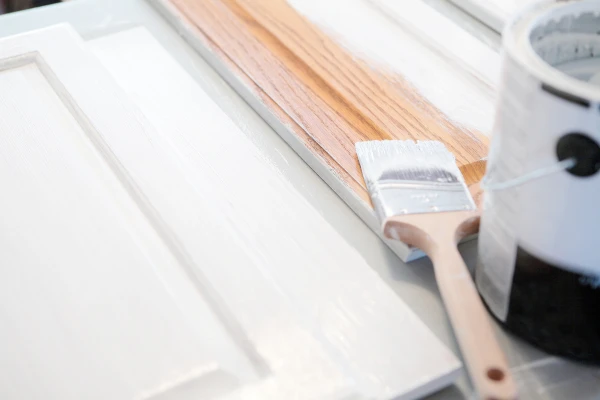 Cabinetry is important to your home's kitchen, bedroom, family room, and so much more. And thanks to Five Star Painting and our team of professional painters, homeowners across Brandon and Riverview have the opportunity to give their home's cabinets a facelift by choosing between painting or staining them.
This is an important decision that can dramatically improve your kitchen's look and overall value at the same time – but which one do you choose?
Today, our painters are here to offer some professional insight into the differences between painting and staining your cabinets, any things you should be aware of, and what resources are available to help you make your decision a little bit easier.
What Are the Main Differences Between Painting and Staining?
While these are two of the most common finishing options for kitchen cabinets and alike, they are two very different options.
Painted Cabinets
Painted cabinets are painted using the same process and tools used during normal routine painting. Cabinets can be painted with a few coats to show off just about any color you could think of, bringing us to our first pro of choosing paint over stain:
Endless Possibilities
When you pick out new cabinets or a stain, you're limited with what you can find. When you choose to paint your cabinets, the possibilities are endless! Whether it's a bright orange or dark black, you'll be able to customize it to your heart's content.
Uniformed Appearance
A big reason why homeowners love painted cabinets is the modern, clean, smooth, and uniform finish it brings. Since paint isn't transparent, especially when several coats are applied, the material of your cabinet is disguised and left with the color of your choice.
Better Protection
While the paint is certainly subject to peeling, cracks, knicks, scratches, and other dings, paint on your cabinet provides the actual cabinet better protection from these damages. While an exposed surface will get scratched, the same type of damage will only penetrate the paint, preventing damage to the actual surface of the cabinet.
Stained Cabinets
Stained cabinets, commonly found in kitchens more than other parts of the home, are stained using the finish of your choice. Unlike painted cabinets, stained cabinets don't hide the natural beauty of the wood:
Natural Look
Some people choose to stain their cabinets for a more natural, rustic look that looks great with virtually any combination of décor, offering a truly timeless appearance.
Also, due to the busy appearance stain leaves behind once absorbed in the wood, any smudges, dirt, and other imperfections will blend into the wood – you won't even know that it was scratched!
Last Longer
Staining your kitchen cabinets is the best way to refinish your cabinets and preserve the natural grain and beauty of the wood, all while providing a finish that is long-lasting and very durable.
Stains last 20 – 30 years as well and can't be chipped, peeled, or dented like paint, so it'll be a few decades before you'll need to redo them again!
More Affordable Option
Most of the time, staining tends to be the more affordable option of the two but comes in fewer varieties. It's great for those sticking to a tighter budget because most staining projects only need one coat when done correctly!
The Bottom Line: You're Going to Win Either Way
The final verdict? Whether you choose to paint or stain your cabinets, you're the real winner – you'll have a new, redesigned space!
While we can give you an outline of some pros and cons of each, the ultimate decision is up to you. Some other factors to consider when choosing whether to paint or stain include:
Type of Wood – Hardwood benefits from staining, while softwood and medium density fiberboard look best when painted.
Your Aesthetic – Are you modern and sleek? Or rough and natural? The final design of your space may help you decide between the two.
Budget of Your Project – Are you looking for a complete makeover, or are you sticking to a tight budget? Painting and staining are both affordable – making them both great options!
When it comes to choosing, you'll have to consider a number of factors like budget, design preferences, and the final vision you have for your home. No matter which route you embark on, refinishing your cabinets is always a smarter choice than purchasing new cabinets altogether.
Need Help? Our Florida Painters Are Here.
Be sure to contact Five Star Painting of Brandon and Riverview for all of your cabinet painting needs! Whether you need help choosing the perfect color of paint or stain for your cabinets, planning a complete redesign of your kitchen cabinets, or still need help picking between the two, our cabinet painters are here with expert knowledge and reliable solutions.
Our nearby painters are standing by, always ready to help. Request your free painting estimate from our today by giving us a call or contacting us online to get started!