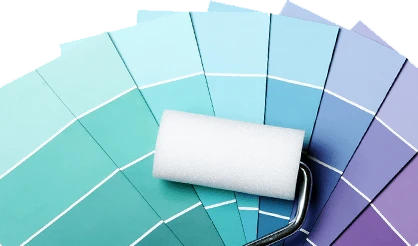 Our customers often ask... "Why do I need 2 coats of paint?"
Anytime our customers want a color change, our advice is to always apply two coats of paint. Yes, there are many one coat solutions in the marketplace, but we can assure you, we have tried them and they do not work for several reasons:
Five Star Painting, and other professional painters, do minor drywall work between coats of paint. After they apply the first coat of paint, drywall imperfections can become visible. If you are only applying one coat of paint, then drywall spots or burrs will show through if you patch or touch up those areas.
Many of the homes we paint have NOT been painted since the house was built. The walls are extremely dry and absorb a lot of paint.
Most new construction builders use the cheapest paint they can get away with. Many of these products are not ever offered by Five Star Painting of Cumming due to durability and other quality factors.
The 2nd coat of paint helps with a sheen change, as well. Most high walls in entryways or anything above 10' are usually best finished in a FLAT paint. The reason for this, is that flat paint helps to hide the imperfections of the drywall work from the builder.
Touch ups are not recommended if you haven't painted in 6 months. Overtime, the paint will fade on the walls, and the color and sheen gradually change once they are on the wall. Painting with a new fresh gallon of paint will appear different than what is on the wall. If it is FLAT paint, it can be painted over, but keep in mind there might be a slight difference in color if the room has a lot of light.
Five Star Painting of Cumming and Alpharetta will always recommend the best solution for your home. Each project is unique and will require solutions that our skilled estimators will suggest to you. Homeowners should feel comfortable and confident hiring Five Star Painting.
CLICK HERE or call to schedule your free estimate today!
Contributed by Scott Specker, owner Five Star Painting of Cumming