Brick Painting in Roswell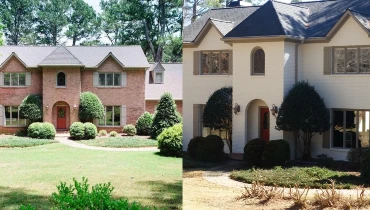 If you have been researching the topic, it is likely you have noticed there are many articles written about painting brick. Before the brush hits the brick, here's what you need to know:
There is really not an option to go back. The cost and mess associated with removing paint from brick is cumbersome, to say the least.
When considering painting your brick home we strongly consider that you hire a professional company that details the process for you. Keep in mind:
- If they do not detail the process, please do not hire them.
- If they claim they will use Sherwin Williams paint without naming the brand with Sherwin Williams, do not hire them. Ask them specifically which paint with SW they will use. 2 coats of a normal latex paint will not work well.
Here is Five Star Painting's procedure for Painting Brick:
1. The brick needs to be tested with spraying water on it. The contractor should use this method to gauge the soak in rate and also if the brick can actually absorb paint. It is rare but some brick is actually treated with a clear sealer that is unseen by the eye. If it is sealed than the contractor should wait until that sealer wears off. If it beads than the contractor should return in 6-12 months and test it again. The contractor should also test it in multiple areas.
2. The key to painting brick is using the correct materials within Sherwin Williams (or any other professional painting manufacturer). Five Star Painting recommends LOXON as the primer to be applied first on the brick. This will seal the brick and provide a great surface for the topcoat to adhere to.
3. After the brick is sealed with 1-2 coats of primer we recommend Sherwin Williams SuperPaint as the topcoat in a Satin finish. The satin will provide a good water protectant and washability.
Most customers that we work with have realistic expectations with painting brick.
The first reality is that it is very expensive. The materials are more expensive than most normal latex paints.
The second reality is that the contractor will need to stick to his contract with regards to # of coats. Once 2-3 coats are applied it is possible that the brick won't look uniformed or look like a wall. Some brick (i.e. texture) will always show through similar to painting oak cabinets. The grain will always be there but not the color differences can be changed and made consistent.
Scroll below to view several homes that we recently painted the exterior brick in Roswell and Alpharetta, Georgia. The change is stunning to say the least! You will notice, it lightens and makes the house feel bigger. In enclosed areas the space feels more open and lightens the mood. A dark fireplace can feel daunting or too intrusive. Painting brick in Roswell will enhance and delight your neighbors as it adds to the historic charm as seen on Canton Street in Roswell and on Main street Alpharetta. It gives it an updated finish and improves curb appeal.
Schedule a free estimate for your exterior or interior brick painting project with Five Star Painting by visiting fivestarpainting.com/schedule-estimate or by calling today!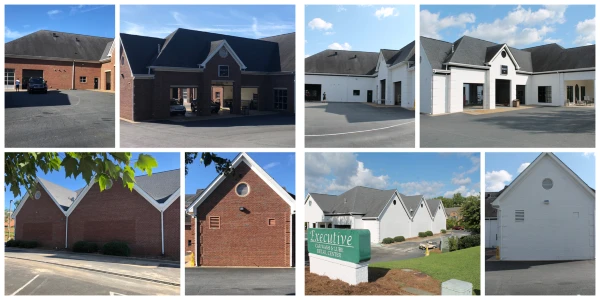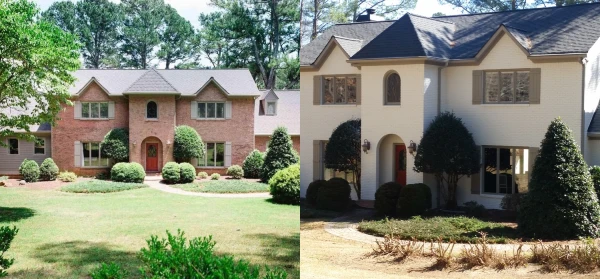 Call or go online to schedule your free estimate today!
Contributed by Scott Specker, owner Five Star Painting of Cumming