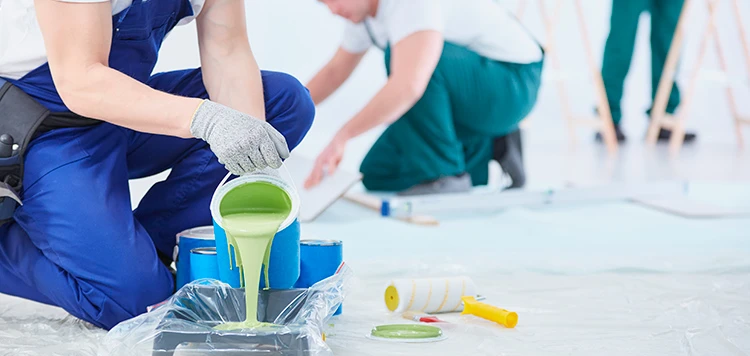 Yes, "painter" has quotes on it. This is one of those stories that is really about a handyman trying to be a painter. It is a story from my childhood about a bad contractor named Tony. He was not a typical contractor. He was not licensed and insured with a website or list of reputable past clients. He claimed to be a painter, and I believe he was recommended by a neighbor.
The year was 1982. I was 10 years old and out of school for the summer. My Dad hired Tony to come and paint our family room. My Dad could not do the job himself, as it required odd ladders and a high ceiling needed painted.
I distinctly recall coming home from playing with my friends to see my Mom horribly angry. She was yelling because of the situation; the way Moms just yell. At first, I thought I was in trouble, but then I heard, "I can't believe this guy is spilling paint all over the place." In a nutshell, he was as drunk as a skunk. He had spilled paint at least three times all over the carpet in the family room. She noticed he kept going to the garage to get supplies, but then later realized he was drinking my Dad's beers and hiding the empty cans under the blankets in the garage. He drank at least ten beers that day.
So, my Mom did what a normal person should do, and she kicked him out of the house. I don't recall my Dad's reaction when he came home from work that day, but I do recall the next day when Tony came by to get paid. My Dad confronted him on the front porch of our doorstep. My Dad's hands were shaking, and he had a list in front of him, he was nervous and my Dad doesn't get nervous easily. My Dad said to him "I am not paying you. You scared my wife and drank my beer, and I have to replace all of the carpets. You better get out of here before I call the cops." Now, my Dad was 5'9" and 160lbs soaking wet. He was in great shape, but he was not a fighter or a big husky guy. Tony had massive arms and a muscle shirt on. I was terrified. Am I going to see my Dad get into a fight? I remember looking at this through a curtain in the front hallway, hiding, but watching intently.
Luckily, Tony walked away from our house and didn't get paid a dollar. It was very dramatic for this suburban kid that didn't grow up with much confrontation. I told all my friends that my Dad stared down a muscle headed drunk painter. I think it made him a bit of a legend in the neighborhood, but in the end, I would have preferred to not have that memory and simply have a nicely painted ceiling.
Sadly, the home services industry is riddled with these types of stories even to this day. We hear them all and can't believe it still goes on. Many home services companies and handymen have ruined our industry and really lowered the bar. Luckily, there are many companies out there that understand this and constantly strive for a higher level of service. At Five Star Painting, we encourage new customers to do their homework before hiring a home service professional, ask good questions, speak to previous customers, and check for insurance. When we run across people that have hired a "Tony" there's little advice we can offer. He likely doesn't have insurance, will change his phone number and certainly does not have a website. Therefore, the homeowner has little to no re-course.
Here's Five Tips and Guidelines to Find a Five Star Quality Painter
Check their complaint record with the Better Business Bureau (BBB) and other social media sites for a long record of reviews. A painter who does inferior work will have complaints about leaving your home or yard a mess or not coming back for necessary touch-ups.
Ask them how long they have been painting and how many jobs they have done in the area. Try and avoid a painter with an out of state phone number. At Five Star Painting of Cumming and Alpharetta, we have accumulated over 2,000 completed projects over the last 7 years.
Avoid full up-front payments. A financially strong company with good workmanship will not ask for full payment up front. We ask for 10% for residential jobs and 30% for commercial to get on our busy schedule. We will not ask for the final payment until the job is completed.
We accept all forms of payment, including financing. Make sure anyone you hire accepts major credit cards. This is really just a test to see if the contractor is a business or not. If a painter doesn't accept credit cards, it is likely he/she is not a business and wants things "off the books." That works as a disadvantage to you, the consumer, if something goes wrong.
Ask for written documentation of your quote and their company. Any good painter will be able to provide a written estimate proving their experience and qualifications to perform your job.
CLICK HERE or call to schedule your free estimate today!
Contributed by Scott Specker, owner Five Star Painting of Cumming and Alpharetta, GA