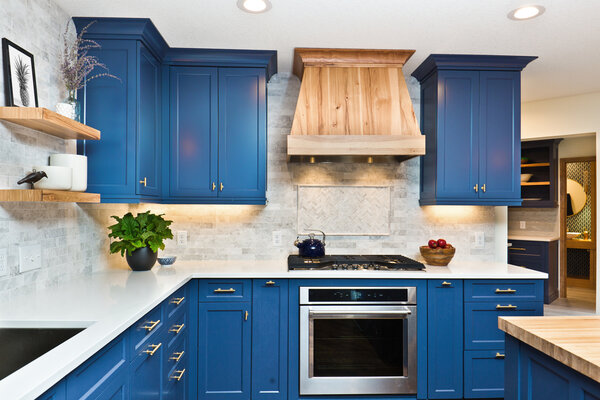 Cabinets are an important aspect of a room. When they look clean and beautiful, they enhance the décor. On the other hand, older, drab cabinets can really drag an interior design down.
If you have been considering cabinet replacement, then you probably have some idea of how expensive that venture can be. The good news is that Five Star Painting of Englewood offers an alternative.
We can clean your current cabinets, prep them, repair them as needed, and then paint or stain them so that they look like new.
Many Different Types of Cabinets
It is important to note that we aren't just referring to wood cabinets. We can prep and refinish cabinets made from a wide range of materials, including laminate and veneer.
The Englewood cabinet painters we work with can also refurbish many different styles of cabinets. It doesn't matter if they're wall cabinets, base cabinets, framed, frameless, or stand-alone.
Unsure if your cabinets are an ideal candidate for painting or staining? Call us today or contact us online to book your free estimate.
We Can Paint Other Surfaces Besides Typical "Cabinets"
The fundamental concept of cleaning, prepping, and refinishing in this manner is not limited to just cabinets. Five Star Painting of Englewood can apply these techniques to a wide range of other features throughout your home.
Some of the other common surfaces we work with include:
Pantries
Bed trunks
Closet storage
Kitchen islands
Integrated shelving
Stand-alone shelving
We Can Paint Cabinets in Practicality Any Room
One of the more common rooms where we paint cabinets is the kitchen. That includes cabinet drawers, pantry shelving, kitchen islands, and so forth.
Of course, the work includes cabinet framing, drawers, and doors. However, this kind of work is not limited to the kitchen.
Other common areas where we refinish cabinets, shelving, and other features include:
Dens
Garages
Bedrooms
Bathrooms
Workshops
Family rooms
Home theaters
Cabinet resurfacing is a simple and affordable way to enjoy new cabinets in practically any room of your home.

Ready to get started? Reach out to us online or give us a call to book your free estimate.