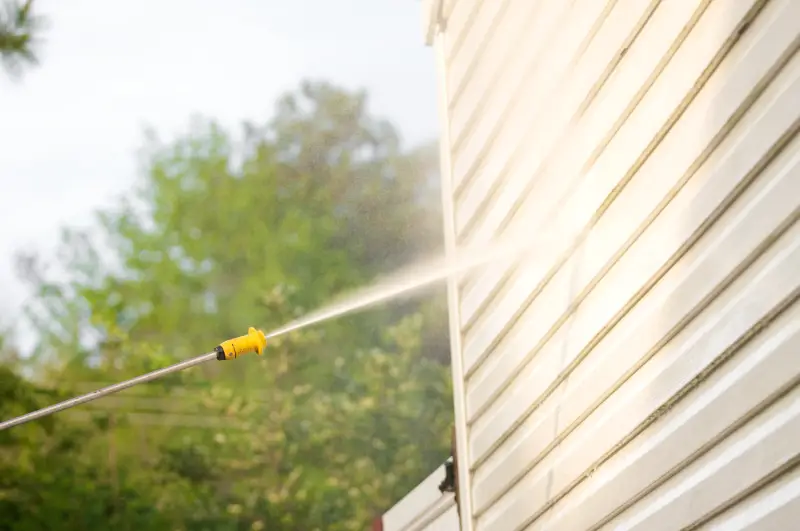 Pressure washing uses highly pressurized water spray to remove dust, dirt, and other debris from surfaces.
With one search online, you'll soon find countless videos of people pressure washing hard surfaces outdoors, stripping away caked-on grime and natural debris, and countless comments and shared posts describing the results of pressure washing as "oddly" or "perfectly" satisfying.
While the satisfaction pressure washing brings the internet helped it rise in popularity, so much so that they've even made a power washing video game, pressure washing should also be celebrated for improving the exterior of your home!
Five Star Painting of Overland Park believes that pressure washing can be so beneficial to your home that we offer stand-alone pressure washing services, aside from our exterior painting prep pressure washing. Today, our Overland team is here to help you learn more about pressure washing and why you should add it to your home cleaning checklist!
Pressure Washing is the Most Powerful Clean
To protect your home, prolong the lifespan of its exterior materials, and ensure it continues to look like the gem it truly is, pressure washing should be done regularly, alongside your regular house cleaning tasks.
House Washing
The entirety of your home's exterior can be pressure washed. This includes everything from the siding to the deck to the porch to the door. The high-pressure water will remove anything that may cause discoloration and damage to your home's exterior.
Benefits of cleaning your home via pressure washing:
Prevents damage to your home's materials from moss, dirt, and other buildups
Saves you money in the long run by preventing repairs
Boosts your curb appeal by letting your paint job shine again
Concrete Cleaning
From the driveway to the sidewalk and everything in between, concrete cleaning will be done quicker and more effectively with the help of a pressure washer.
Maintaining your home's grounds via pressure washing helps you:
Give your concrete a new appearance (it's like night and day)
Increases safety of your property by eliminating slick slip spots
Reduce the chance of weed growth by blasting along contraction joints
Remove stains and extends the lifespan of your pathways and more
Exterior Painting Preparation
While it can clean just about any hard surface, pressure washing is most often used to blast away loose paint before a new coat of paint is applied. Pressure washing is the most effective way of priming a surface for painting.
Proper exterior pressure washing before painting helps:
Provide a perfect time to inspect your exterior for possible repairs before painting
Removes any debris that may prohibit the paint from sticking to the surface
Promote smooth surfaces free of bubbling, peeling, and cracking
Ensure you're getting the most out of your exterior painting investment
Can I Rent a Pressure Washer & Do It Myself?
While it's not against the law to do DIY pressure washing, it's not recommended. It's important to consider the risks and common pitfalls that come along with the rental of a pressure washer and pressure washing for the first time:
Old Equipment – Sometimes, when you rent a pressure or power washer, you may not be getting exactly what you think you're getting. The equipment may be old or worn, leading to a less effective clean than if you would have hired someone who owns their equipment.
Damage to Your Home (or Body) – Many people underestimate the pressure behind pressure washing. Not only can it cause broken windows, damaged siding, and other kinds of exterior damage, but pressure washing mistakes can also lead to bruising on your hands or feet if things get out of hand.
Poor Cleaning – Professional power washers power wash all day, so there's no wonder why they'll ensure a better clean for your home. They have better aim and rely on trusted chemicals, processes, and tools to do the job right.
And this is just the beginning. Bad pressure washing can result in property damage, including water damage, so it's always smart to hire a professional instead!
Request Pressure Washing Services from a Trusted Team in Overland Park
If you need pressure washing in Overland Park, there's a chance that you don't have the proper tools for the job – or even the time. Luckily, Five Star Painting of Overland Park does.
Regardless of if you're looking for pressure washing services to clean your property's walkways or pressure washing and painting services to transform the exterior of your home, we're professional painters who have the commercial grade pressure washing equipment and wide range of services needed to blast away debris and get your home ready for whatever may be next.
Give your home's exterior the clean it deserves with Five Star Painting of Overland Park's pressure washing services. Contact us online to schedule your free estimate!