DIY home improvement projects can be very rewarding experiences or major sources of frustration. Avoid the headaches with help from Five Star Painting. Our experts are here to help you avoid common DIY mistakes and also, if you'd prefer, to manage your project from start to finish.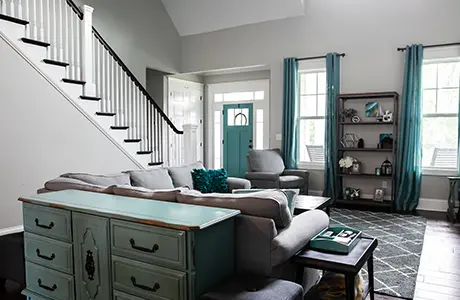 The tricky part about painting a room is that it looks really easy, when in fact, giving a room a professional look and finish is difficult without the right knowledge, prep work, tools, and materials. The good news is, our experts have years of experience and are willing to share some of our secrets to keep your project on track and on budget.
DIY House Painting Advice
Before you go out and buy a paintbrush and a can of paint, use the information below to help you prepare and save yourself from mistakes, extra trips to the hardware store, or DIY defeat:
DIY Painting Considerations
We spend a lot of time taking over DIY projects from homeowners who got in over their heads. That OK, that's why we're here and we're happy to help. To help prevent this from happening to you, review the insights below to help you decide if DIY is the best option for you. There may be a few things you're forgetting, or perhaps you just don't realize how hard painting all day can be on your body! Believe us, it's hard work!
Time is the only commodity you can't buy more of. Before you begin a DIY project, ask yourself if there are other things you'd rather be doing than painting, and if the time you'll spend is worth more than the money you'll save.
Depending on the project, painting a room can turn into a light fixture and drywall repair or a door or window trim replacement project. Do you have the skillset and tools to take care of these projects, too?
Almost anyone can slap a coat of paint on and call it a day. But a professional-looking paint job begins well before a can of paint is opened.

Prepare to spend significantly more time prepping than painting. Also, this prep work isn't glamorous; it's tedious and involves dust and hard work in awkward or potentially risky positions, such as high up on ladders.
Buying materials, researching paint types and varieties, and finding that perfect color can take up a lot of bandwidth. Don't forget to factor this into your overall project time estimate.

How important is a truly professional-looking paint job to you?

There's a reason painting is a professional occupation – it takes time to develop the skill and muscle memory to efficiently prep and paint a room with great-looking results.
Are you OK with settling for "good enough" or are you willing to spend 4-5 weekends for that perfect paint job? In some cases, professional results may simply not be achievable without the right knowledge or equipment or might require an unrealistic time commitment.
Experts are experts for a reason; they can achieve professional results in short order since they have the experience, tools, knowledge, and equipment.
If you still feel like you can handle the job yourself, you probably should. But if you're wavering…
Professional Help When You Need It
We don't want to discourage you from taking on your next DIY project, but Five Star Painting also wants to help you avoid the dreaded DIY fail.
We offer full-service interior painting and exterior painting services for just about every surface on your property. With years of experience, our experts are here to serve and will go the extra mile to ensure your satisfaction.
Give us a call at (888) 261-3633 for a free estimate or request one online! We look forward to working with you.