Choosing the Right White Paint
Choosing the Right White Paint
What are the Options?
What are the Best Whites for Trim, Doors, and Ceilings in Your Home?
Should You Go All White?
What's the Best Way to Test Paint Colors in Your Home?
The Options:
Pure White
Off-White
Cream
Pure White: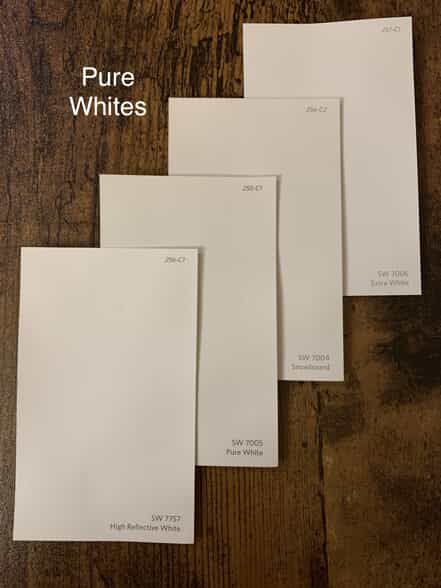 You can find pure white options that are stark and cool and some others that offer a touch more warmth. Opinions vary greatly on which white is the whitest white in the Sherwin-Williams palette but, for me it is High Reflective White 7757. This one can almost be too white in some homes and can even pick-up surrounding colors from the environment. In most cases, I would reserve HRW 7757 for trim and doors. If you are looking for a pure white without the intense brightness of HRW 7757 I would recommend checking into Sherwin-Williams:
Extra White 7006
Snowbound 7004
Pure White 7005
Extra White is a bit cooler with a slight gray-blue undertone, while Pure White leans warm with very slightly gray-yellow tones. I like Snowbound because it feels like a nice middle-ground between the two with just a softer gray undertone. Pure whites tend to look best for trim and doors, but in the right space and with the right lighting; these can be quite lovely for walls and cabinets as well.
Off-White: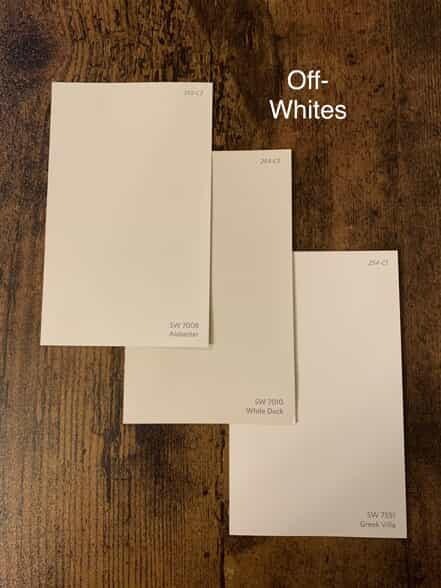 Off-Whites are whites that are slightly "off" from pure whites. Off-white is the perfect paint option when you want a softer white than the crispness of a pure white.
A few of my favorites are:
Alabaster 7008
White Duck 7010
Greek Villa 7551
These three can provide a soft white without showing too much of those tricky undertones that can throw off your desired color scheme. As with any colors though, you want to test them in your home with your lighting and surrounding furnishings.
Cream: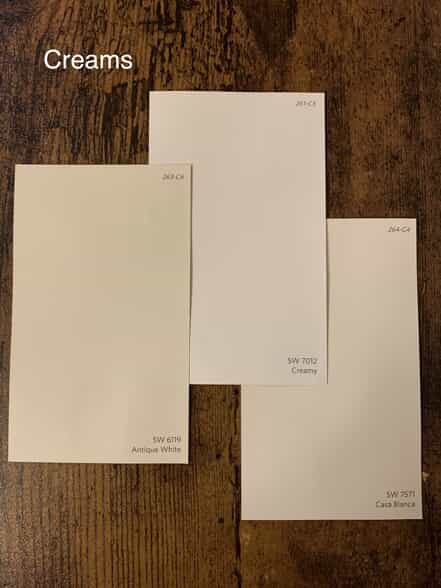 Cream is off-white with the addition of more warmth from a good dose of yellow in its undertones. Cream is a popular choice, but many homeowners are wanting cream without being too "yellowy". A few Sherwin-Williams creams to consider are:
Creamy 7012
Casa Blanca 7571
Antique White 6119
I like these creams because they strike a great balance between being firmly in the cream category without the strong yellow tones. As with any colors though, you really want to test them in your home with your lighting and surrounding furnishings.
Which Whites are the Best for Your Trims, Doors, and Ceilings?
Before deciding on which white is best for your home's trim, doors, and ceilings ask yourself these questions:
Do I have a lot of earth tones or browns in my fixed furnishings? Choose an off-white.
Do I have marble or black and/or gray granite counters? Choose pure white or off-white.
Do I love vivid or bright colors in my decorating? Choose pure white or off-white.
Do I like to decorate with muted tones, warm woods, and browns? Choose off-white.
What if you are currently undecided? What if you are trying to sell and just need a repaint or update? What if you are like my husband and just want "white trim" without all the fuss? In this case, I would recommend trying Pure White SW7005. It is a pure white with just enough warm softness in it to allow for some flexibility with warm or cool wall color options.
Other Trim Tips:
Every home is different and there are circumstances that might allow for it, but I typically wouldn't use a cream color on trim. It may look a bit "dingy" next to any other whites in the space and would be more challenging to pair with other paint colors throughout the home. It would also limit your options later if you decided to make any color changes in the future, leaving you to repaint the entire trim which could get quite costly. If you do absolutely love the idea of cream trim and feel it's the right choice for you, I would avoid any with strong yellow tones and use it when the color on your walls would be darker than the trim color or use the same cream color on the walls as the trim and rely on different sheens for contrast. For example, satin sheen on the walls and semi-gloss on the trim.
Trim and doors are painted with a semi-gloss finish to better protect them from wear and tear. Semi-gloss tends to make the paint colors look brighter.
Painting trim can be one of the most expensive painting projects in your home, after all it runs through the entire house and that's a lot of taping off, prepping, and detail work. As with any colors though, you really want to first test them in your home with your lighting and surrounding furnishings.
Should You Go All White?
Current trends for 2021 seem to be going warmer and leaning toward some bolder color choices but done the right way, an all-white interior room is still a classic.
Before going all-white, ask yourself:
Does this space have lots of natural lighting?
Are my large furnishings in this space white?
Does this space have crown moldings, a tray ceiling, or any other architectural details?
If you answered yes to ALL of these, then go for it!
All white rooms need a lot of natural light otherwise it may come off a bit flat and depressing. Details like crown molding and lots of texture provide interest and warmth in a monochromatic space and adding layers in the form of throws, rugs, and or pillows can keep the all-white look from getting too cold. Great artwork can also be showcased beautifully in an all-white space.
What's the best way to test paint colors in your home?
That tiny little chip you get at the paint store is just kind of an idea of what the color is, it's not particularly good at clearly showing you how it will look in your home. After you narrow down a few contenders, the best option is to get the sample pots from the paint store and paint them onto a large white poster board. Apply two coats of paint leaving some white space around the edge of the paper and then attach it to the wall with painter's tape. This allows for easily moving your sample to different walls to see how it reacts to your home's lighting and fixed features. The white boarder allows you to see the potential new color without the distraction of the current color on the wall. An issue that can occur from painting directly onto the wall is bleed-through and flashing. Paint goes on in thick layers and those testing layers may show through into your final product.
I might have already mentioned this but….as with any paint color, you definitely need to test them out in your space before you commit. Lighting, surrounding furnishings, undertones, and personal preference all come into play when selecting the right paint colors for your home!
Will and Trina Rogers, Owners of Five Star Painting of Temple