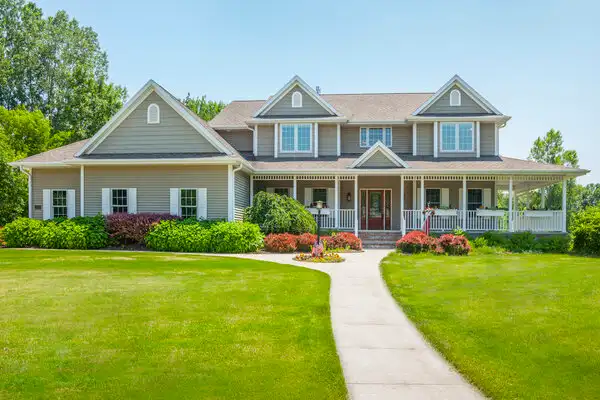 At Five Star Painting of Ankeny and West Des Moines, we're proud to be among the leading house painting companies in Ankeny and West Des Moines. Proper prep and a fresh coat of paint really do make a significant difference not just in curb appeal but in protecting your house over the long term. The painting contractors we work with are able to prep, paint, and stain most of the materials common to this area, including:
Brick
Wood
Siding
Stucco
Paneling
Concrete
What is Included in Exterior House Painting?
At Five Star Painting of Ankeny and West Des Moines, we don't just paint your home! We take the time to learn what you want and strategize for the best paint job for your home.
Specifically, we:
Understand what you want,
Perform thorough prep work,
Supply the premium paint and proper materials
Utilize correct paint application techniques
Clean everything up (we won't leave paint cans around your property!)
Perform a walk through with you at the end
Our Exterior Home Painters Perform Meticulous Prep Work!
Proper prep is the key to a professional finish that withstands the elements over time. We often begin with pressure washing to dislodge dirt, mold, oils, and many other substances. The pressure washers we work with can also clean driveways, walkways, decks, and fences. We even hand-wash when necessary. After cleaning, prep depends on the condition of the home but can include wood repair, sanding, caulking, priming, and much more.
Have specific questions about painting your home? We have reps on hand who'd be happy to discuss our process with you. Call us at (515) 599-3428 today.
Your House and More
Maximizing your curb appeal and ensuring that your property is a wonderful complement to the neighborhood often extend beyond just the house itself. Do you have satellite structures and other surfaces on your lot? Our Ankeny and West Des Moines exterior house painters can paint those to match the home or add the perfect contrast. The outbuildings and structures we can prepare and finish include but aren't limited to:
Gazebos
Playhouses
Well houses
Latticework
Sheds and barns
Detached garages
Workmanship You Can Count On
Our pricing for all labor and materials is competitive and fair. We only use premium paints and other supplies from brands like Sherwin-Williams® and Behr®. At no charge, we'll visit your home, provide an assessment of the job and give you a written estimate. If you hire us, we'll start the job in a timely manner and work hard until it is complete.
At Five Star Painting of Ankeny and West Des Moines, we offer affordable exterior painting services you can depend on. Call us at your convenience to schedule your free at-home consultation.