Searching for Quality-driven Interior Painters Near You? Count on Us for Long-lasting Workmanship!
We deliver customer-focused and quality-driven interior painting services. Struggling to choose the right colors for your home? We can help! Need paint contractors who can measure your project precisely? We can help with this, too!
At Five Star Painting of Ann Arbor, we're homeowners just like you. We understand that your home is the backdrop of your life. Do you need interior painting because you're new to the neighborhood? Or have you lived in your home for years and your home needs some rejuvenation? No matter the reason for your interior painting needs, count on us to be there for you!


Looking for top-rated interior painters in Ann Arbor? Check out our reviews to see why our clients love our services. Contact us at for a free estimate.
Let Our Interior House Painters Come to You!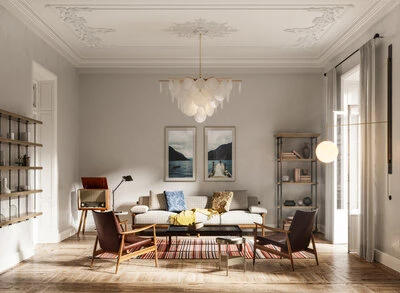 With the right paint job, transform any home and living space with a desirable atmosphere. At Five Star Painting of Ann Arbor, we come to you to provide you with a free estimate. We're here to learn more about your wants and needs with a new paint job. We provide top-notch service. We understand how imperative a clean, crisp, and professional paint job is. Especially when creating the living space of your dreams.
Our Interior Painting Services
Most residential projects are possible when working with Five Star Painting of Ann Arbor. Our Ann Arbor interior house painters can paint a room or a whole home with projects ranging from renovations to touch-ups. Some of the most common residential painting projects we take on for our clients include:
Living Rooms
Dens and family rooms/playrooms
Bathrooms
Bedrooms and master suites
Basements
Home offices
Dining rooms
Kitchens
Mudrooms
Hallways and entry rooms
The Importance of a Fresh Paint Job
Maintaining a living space that is inviting and cozy first requires a fresh paint job. At Five Star Painting of Ann Arbor, we help with creating vibrant and eye-catching environments. We understand how to create this environment with any type of room, regardless of size.
We Have the Cleaning Covered
There are huge hassles when painting rooms on your own, without the help of professionals. These include planning, preparation, and cleanup. When working with our team at Five Star Painting of Ann Arbor, we help to ease the process of any renovation project. Our interior painting contractors in Ann Arbor provide all of the necessary tools and supplies required to get the job done. They try to swiftly clean up once the job is complete. Simply relax and allow us to help you bring new life into any area of your home.
Interior House Painting | FAQs
Does paint quality really matter for interior painting?
Yes, paint quality is one of the most important factors to the longevity of your interior paint projects. Fortunately, at Five Star Painting of Ann Arbor, we only use premium, high-quality paint. We want your interior paint job to last and amaze for years. Our number one goal is to ensure we handle your project right the first time.
For instance, did you know bathrooms and kitchens require special mildew-resistant paint? This is just one of the specific details professional interior painters will know.
If you have a project you are interested in that is not listed above, give us a call to discover how we can help you.