Efficient, Helpful, & Professional Interior House Painters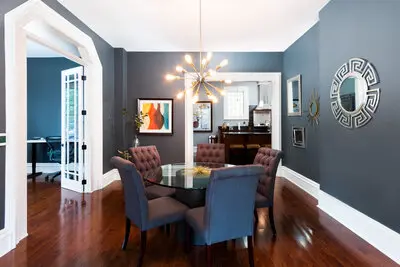 Is your living room unappealing or have your bedroom walls seen better days? Few things improve your home's look and feel as much as an interior paint job. At Five Star Painting of Birmingham, we can help you with the selection of colors from our full spectrum of Benjamin Moore® and Sherwin-Williams® paints.
For your comfort, we offer low-VOC and no-VOC paints, so you can stay in your home from the start of the painting project until its conclusion. Our interior painters in Birmingham will work efficiently to complete your indoor painting with minimal disruption to your everyday life.
Selecting a Color That Suits Your Style
Colors are connected with moods. A shade of blue might be just what you need in order to create a serene and relaxing bedroom. A sunshiny yellow might be just the color you are looking for in your dining area or kitchen. Perhaps you would like to inspire your guests with a pop of ruby red in the powder room, or maybe your teenager would like a violet wall.
At Five Star Painting of Birmingham, we're happy to help you pick out the right colors that will bring a cohesive look to your living spaces.
The Benefits of Professional vs. DIY Painting
A professional paint job affords you certain benefits that you just won't get with a DIY effort. For starters, you can count on a job completed by professional Birmingham interior painters! We'll stay on time and on budget. At Five Star Painting of Birmingham, we do the heavy lifting so that you don't have to, and we don't leave until the job is completed to your specifications.
Our team uses state-of-the-art equipment that ensures a more attractive, long-lasting paint job, and we're always mindful of local regulations and HOA guidelines. We even offer a two-year warranty to make sure that your investment remains sound long after the project is complete.
Ready to book your free estimate? Contact us online or give us a call! Our interior painters are customer-focused and quality-driven.