Celebrity Bathrooms: 13 Incredible Master Baths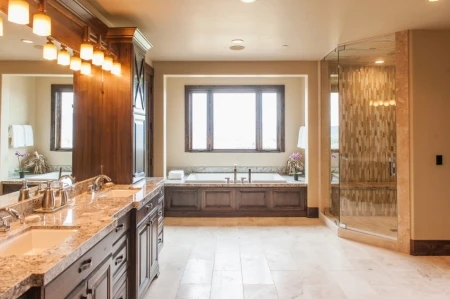 This is not an image of an actual celebrity's bathroom.
What's more relaxing at the end of a long day than a nice, warm tub of bathwater? Check out these celebrities who have spared no expense on extravagance as they take relaxing to a whole new level.
To view actual images of the celebrity bathrooms listed here please visit: ElleDecor.com or follow the links provided.
This serene master bathroom belongs to filmmaker Michael Bay. This room of his Miami Beach home is sheathed in etched-stone tiles and topped off with a bathtub of cast concrete.
Actor Ryan Phillipe's Los Angeles home is inspired from East Asian culture, and the look is reflected in his master bath. Following principles of Asian Zen, Phillipe's bathroom has grass and cloth-based wallpaper and Shoji screen doors.
Actress Meg Ryan's master bath in her beautiful beach home has a classic look with white walls, mosaic floor and an antique earthenware tub.
This spa-like master bath is located on the third floor of actress Julianne Moore's Manhattan townhouse. Complete with a marble soaking tub, a double vanity and a soothing, neutral color palette, this contemporary bathroom is nothing short of extraordinary.
This self-inspired celebrity bathroom takes personalization to an extreme. Christina Aguilera's Beverly Hills home comes with a free-standing tub, a Moroccan side table, fireplace and even a designer rug with the singer's face sketched on it.
Keri Russell's gorgeous Brooklyn brownstone includes this peaceful master bath with a beautiful Victoria + Albert claw-foot tub.
Erring more on the weird side of celebrity bathrooms, actress Kirstie Alley's whimsical master bath is the highlight of her crazy, cupcake-like house.
The cabinetry and mirror frame in Courtney Cox's master bath are ebonized white oak. With custom-made pendant lights and velvet-upholstered furniture, Cox's bathroom is one of the highlights of her beautiful home.
CoverGirl Molly Sims' Los Angeles home is just as glamorous as she is with a high-style master bathroom full of luxurious stone finishes. The best part of this immaculate celebrity bathroom? The unmatched views from the over-sized shower and step-up tub.
This old-world style bathroom can be found in the Rancho Santa Fe home of Jenny Craig. The room's high ceiling, stone floors, textured walls, fireplace and Italian Renaissance paintings are bound to make this room one of the most luxurious bathing places around!
Designer Donatella Versace's master bath in Milan features a bronze statue of a reclining Buddha, a Versace Home Collection chair upholstered in black leather and a mirrored wall reflecting the vaulted ceiling and patio beyond.
As if the view of the Central Park Reservoir weren't enough, Ralph Lauren's gorgeous Manhattan master bath features mirrored and white-lacquer cabinetry and a counter-top and floor of Thassos marble.
In this New York penthouse, fashion designer Jill Stuart brings a feminine touch to a contemporary master bath with a sparkling crystal light fixture.