Chalk Paint by Annie Sloan: a Beautiful Choice for Home Decor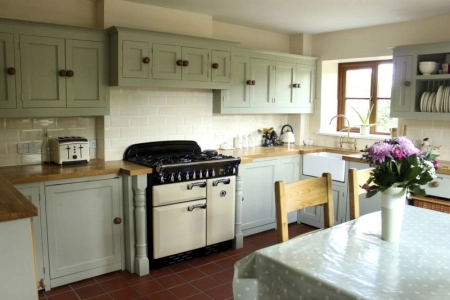 Annie Sloan's Chalk Paint is becoming increasingly popular for things like desks, dressers and cabinets, walls and floors. Which is understandable because it creates such a fantastic vintage look. The colors are rich and the finish options are very versatile.
Possibly one of the best parts of this new paint is the fact that it adheres to most surfaces without any sanding or priming and it dries fast. All of this is great, especially if you don't have a lot of time to spend adding a new color somewhere to brighten up a tired room.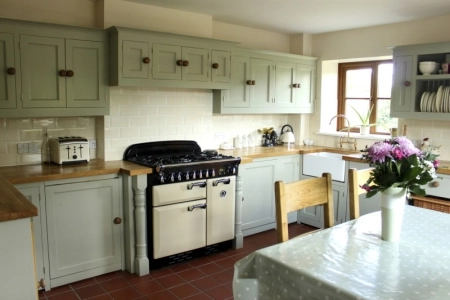 I don't know what paint was used on these cabinets, however a similar look can be achieved using chalk paint.
Versatility
Chalk paint got its name because of its matte, chalk like finish which lends itself to the fantastic shabby chic look it gives anything you put it on. The versatility of this paint is remarkable. Not only can you mix the colors yourself to make a new color that is yours alone, but you can apply and treat it a variety of ways to get a different result. The looks produced with this paint include, crackle, distressed, wash, smooth, and textured aged. These different effects are achieved through techniques such as adding water, different brush strokes, applying sandpaper, and using a hairdryer.
Waxes
The soft wax that Annie Sloan has developed to couple with her chalk paint, in either dark or clear, is used to both seal and bring out the character in the way the paint was applied and treated and gives this paint an attractive sheen. In her videos, Annie describes applying the wax as though your are putting on hand cream, essentially you are rubbing it into the paint. Even though it's applied with a brush, don't expect this wax to behave the same as paint, it's a completely different substance.
Colors
The color pallete is lovely and very popular right now. There is a beautiful array of deep jewel tones and lighter, muted tones that remind me of the sea. I will make a point to post the images on the Pinterest site so you can see it. I know I already said this but, you can mix the colors yourself. This is awesome! Do you know how many times I have been almost completely happy with a color choice? If only it had a touch more red in it. But no one has the right color available in their paint chip stand and I have to settle on something close to what I was looking for, but not exactly.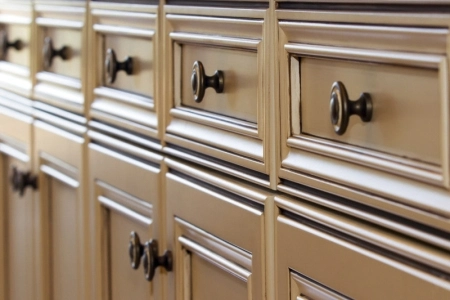 The look of these cabinets is comparable to what Kim created using Annie Sloan's Chalk Paint.
Ideas
I also loved what Kim, Savvy Southern Style blogger did to her kitchen cabinets using this paint. The vintage look was charming. Kim, chose Chateau Grey chalk paint and decided to use the lacquer, also by Anne Sloan, instead of the wax to finish her cabinets because her cabinets see a lot of traffic. The lacquer was originally designed for floors and high traffic areas but with its matte sheen it looks great on kitchen cabinets. She also applied a Valspar Translucent Color Glaze in Moca to the corners and grooves of the cupboards which really added dimension.