How to Decorate with Family Pictures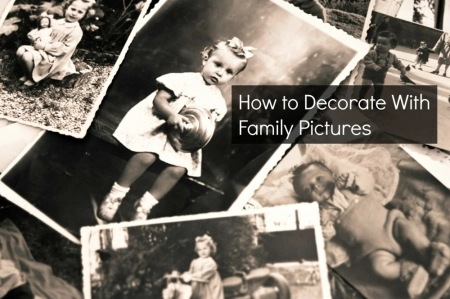 Old family pictures are charming and must be hung on the walls for all to enjoy.
Decorating with family pictures can seem a little daunting, but it really isn't too hard when you know a few tricks. I have seen many a worthwhile photograph go unappreciated because of fear of not knowing how to put it up on the wall. So, to avoid this tragedy, here are some tips to selecting photographs and frames, and arranging and actually hanging them on the wall.
What to hang on the wall
One of the most meaningful decorating ideas I have seen was really old family photos hung on the wall. Don't limit yourself to most recent family photos, although those are good too – go way back. Talk to Grandma and see if you can get images of her and Grandpa when they were young. Even baby pictures can be interesting to put up. Family history photos are a great way to remind you and your family of their roots. I am inspired when I look at my family's historic photographs, it's fun to identify who inherited whose smile, nose or freckles.
Whatever time period you get your photos from – now or way back when – select which pictures will be best on the wall and group them together because they have something in common. Hint: choose your picture groupings based on a common theme. My mom has done this with photographs of her mother as a model in the 1960s. She has hung these photos in her powder room along with a collection of vintage powder room items and quotes in vinyl lettering about true beauty. Celebrating her mother's history and keeping her daughters grounded at the same time. Go mom!
Frames
I have found that I love the look of different frames in a cluster. It would help though if they were all the same color or at least the same value, but that's up to you. After you have selected your photos and had them printed or copied—preferably by a professional because they will look better—go to a thrift store and see what frames they have that will fit your pictures. Remember that you are looking at the frame, not the nasty print from the '90's that's inside the frame. Also, keep in mind that most frames can be painted.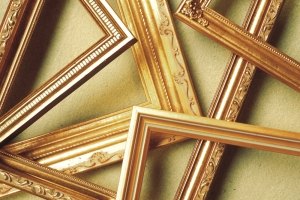 Once you have your frames, decide if you want to paint them. I think black is a fantastic color for picture frames and gives mix-n-match frames a classy look. You may paint your frames any way you like. I think you will find that lining them up on newspaper and spray painting them is going to be fastest. But again, it's up to you.
If the idea of treasure hunting at a thrift store and painting doesn't thrill you then go to a craft store and select frames to fit your needs. That will save you time and effort because you can choose the frames that match each other.
Arranging photos
A cluster or grouping of pictures is the most daunting project to me. The frames are usually different shapes and sizes and there is generally some challenge in the way, like a thermostat device. Thankfully other people have thought these things through and have created guidelines for people like me who have been doing this the hard way for years.
… So it turns out there are a lot of rules for arranging photos on the wall. Rather than explain, I will share a link with you to the best guide I have seen so far. The guidelines and visual examples are excellent. Take a look: http://www.thinctanc.com/design/hanging_pictures.html
Hanging Photos
For the last picture hanging project I helped my mom with, I arranged her frames photos on the floor to determine what looked best and then used the trial and error method. I haphazardly began to hold up a photo on the wall and would leave a pencil mark. While I did get the photos on the wall, there are behind the photos more incorrect pencil marks than I would like to admit to.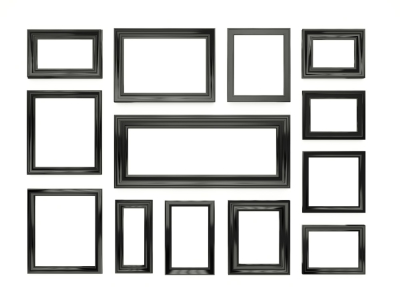 Ideally you will have photos in your frames before you begin arranging them, what's in the frames may influence how they are arranged.
Hindsight is 20/20 and that being the case, I recommend the method described in the HarvardHomemaker.com. In her post "Hang a Wall Gallery with Ease," she uses craft paper and traces the cagaases she wanted to hang on the wall. She cut out these pieces, aligned them with their canvas and pressed her finger against the Sawtooth hanger to show her where the nail needed to be placed. Using a pen, she marked a spot under the indentation on the craft paper in the middle and directly under the Sawtooth hanger.
This next step is probably the only part I got right on my last project. She arranged here photographs (they were printed on cagaas) on the floor. Then she took the paper and taped it to the wall in the same arrangement that was on the floor. Please note that she used a level to assure that each piece was straight. Using the pen mark she had previously made, she put the nails into the wall right through the paper. This is a great method and will help you to arrange the frames with less trouble and greater accuracy.
There are a few more things to keep in mind when hanging photos on the wall. The weight of the piece you are hanging will effect where you can hang it. What I mean by this is that drywall is not made to hold up a significant amount of weight, so if your wall hanging is heavy at all, then you need to make sure you drive the nail into the studs behind the drywall because those are solid wood and can take the weight.
Also, use proper wall hanging hardware, like a pin-and-hook-hanger that can help to prevent damage to the walls too. There are a lot of alternative wall hanging devices available including drywall hangers and command hooks. Determine what will be best suited to your needs.
Remember ladies, no fear! Get those pictures up on the wall so you can enjoy them. For more tips, how to's and ideas on hanging family photos and other decorating ideas follow us on Facebook, Twitter, Pinterest and Google+.