10 Valentine Party Ideas for Your Kids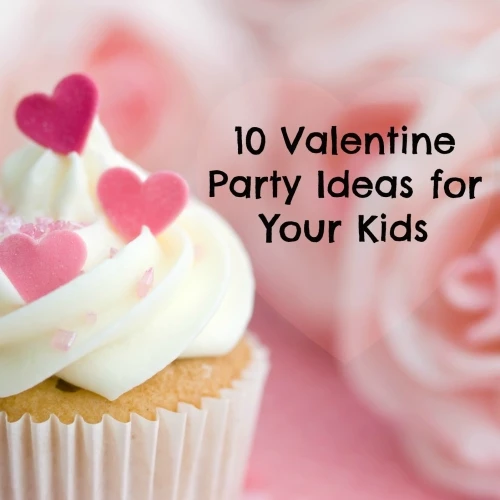 Valentine party ideas for your kids, because let's face it, planning a party for them is way more fun than planning a dinner party for adults. Take this excuse to overdose on pink, red and purple hearts and throw a Valentine's Day party for your kids!
The first thing you'll want to do is invite the guests. I am going to leave the invitation designing to you, go on Pinterest find something cute and make them or buy premade invitations from the store. If you are short on time I would simply skip the formal invitation and start calling the parents.
After you have done that, you need to plan activities, treats, prizes and decorations for the party. I recommend doing this step before you go to the store so you have a list and hopefully a set budget so you don't get too carried away in the Valentine's Day shopping frenzy. Something about that isle covered in pink and red, it's dangerous. Decide what you need before you go shopping.
Valentine Party Ideas
GAMES
Games and activities are a must for any children's party. Here are a few Ideas.
Bingo
Bingo is a good game and an easy one to start the party out with because even if you have a few late arrivals they can jump right in with everyone else and start playing. Use Valentine candy for place markers. Have a few small prizes for every bingo and blackout winner. You don't need to break the bank with this, it can be a simple box of conversation hearts and you can limit the number of prize winning bingos per child. You are in fact in charge of this party so do lay some ground rules or you may get run over. Be strong, you can do this. Here is a link to free, printable Valentine bingo cards.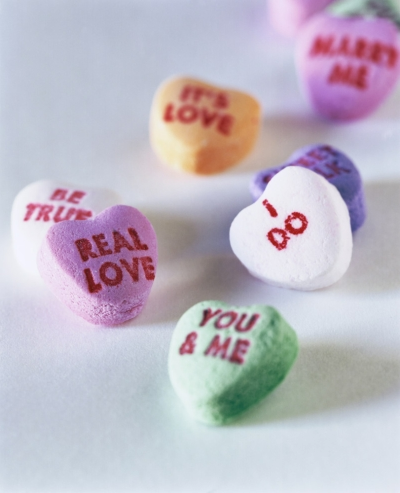 Use Valentine candy as bingo makers. Make sure you have enough because they are going to disappear as the game goes on.
Ice sugar cookies
Decorating sugar cookies is a super fun activity for kids. Set up the table with previously baked, heart-shaped sugar cookies, icing, and sprinkles and let them go to town. You may not have time to make the sugar cookies yourself, so call a local bakery and order your sugar cookies from them beforehand and be sure to specify that you want plan, undecorated sugar cookies. You might even ask about buying the frosting from them too. The worst they can do is say no and you are no worse off than you were before. If they do say no, go for Betty Crocker frosting and Walton Sprinkles from the baking isle at the grocery store. Don't forget to pick up the plates and plastic knifes for decorating while you are there!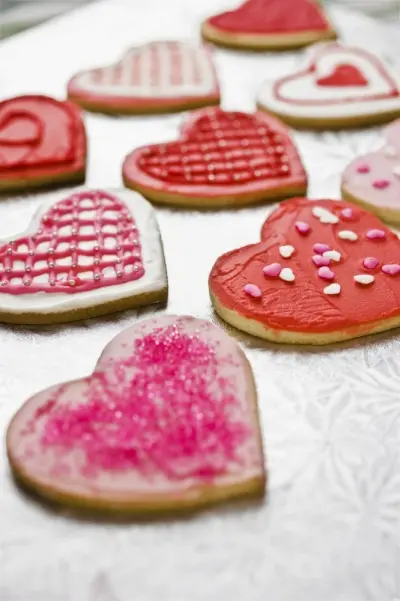 Sugar cookie decorating is a great time filler activity at a Valentine's party for kids.
Tip: Consider using disposable tablecloths to save you some cleanup. You can find in the party section of the store, usually next to the wrapping paper and colored serveware. Buy one for the table and if the children at the party are really young, possibly use two more for the floor surrounding the table to save the floor.
Valentine Exchange
What's a Valentine's Day party without a card exchange? For me, half the fun of Valentine's Day as a kid was making my valentine box and creating cards for my friends. The Valentine exchange is a must, don't skip it. I hope it teaches your children that Valentine's Day is about expressing your love and appreciation for your friends rather than focusing on "who has a crush on whom." Although, teaching that to some children may feel like trying to nail Jello to a tree. Good luck!
Photo Booth
Photo booths are a popular activity at parties these days. Set up a fun backdrop using a sheet, a fun tablecloth or some pretty wrapping paper taped to the wall. Be sure you choose a well-lit location and use a flash if you have one. You can provide props or cutout shapes like glasses, lips and a mustache taped to straws for added entertainment. This is actually a fun activity for all ages. Don't worry so much about the camera you have, just use what you've got, if it's a digital point-and-shoot that's great, if it's your phone that's great too! The point is to have fun, if you are the photographer make it an amusing experience for everyone so you capture a moment, not just a pose.
TIP: Zoom In, the biggest mistake with these homemade photo booth pictures is they are too far away from the subject and it ruins the effect. Think about actual photo booth images they are super close and sometimes the camera doesn't get everything in the picture. Don't be afraid to crop out a few details.
If you are in need of more game ideas I recommend taking a look at this site, it has a few ideas that may do nicely to fill the time and keep them entertained. https://www.hallmark.com/valentines-day/ideas/valentines-day-party-ideas-for-kids/
TREATS
Valentine parties, or any party really, just wouldn't be the same without treats to enjoy.
Heart-Shaped Food
You can make just about any food into a heart shape. Pizza, sandwiches, sliced melons, brownies, and rice crispy treats just to name a few. Heart Shaped Sandwiches – Make sandwiches and use a large heart shaped cookie cutter to cut out the sandwich. Simple.
Pizza with Heart
Pizza usually equates a win at a kid's party. If you are really feeling ambitious you can make a heart shaped pizza yourself or rumor has it that Papa John's is making heart-shaped Pizza. Personally, I would order in. Even if you do make the best homemade pizza ever, you already have enough to do to get ready for this party and the kids aren't going to stop that long to taste it anyways.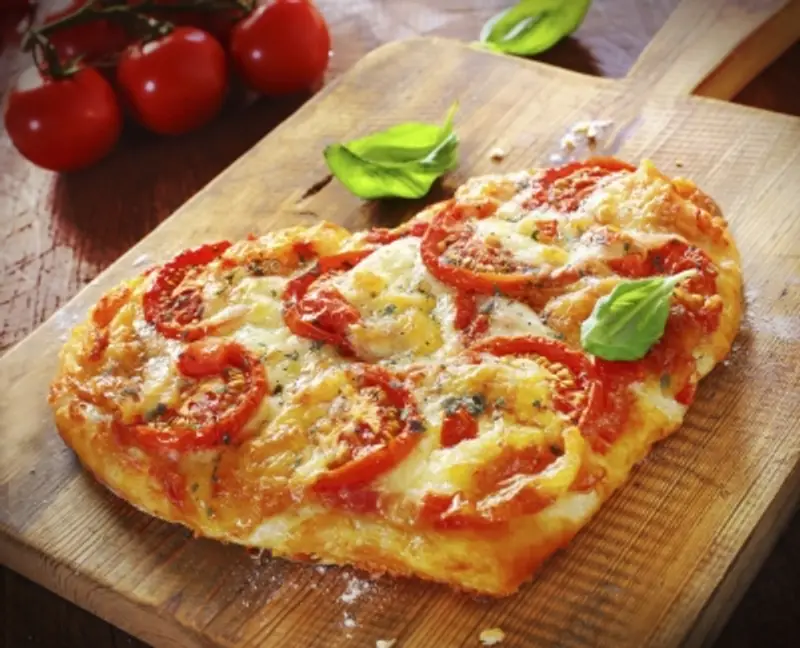 Pizza is super easy to make festive or simply order in for a Valentine's party.
Allergy Awareness
Be aware of children with allergies to food such as peanuts a soy, dairy and gluten. I know as the sibling of a kid who had massive food allergies, it's tough to be at a party where the activities center on food and not be able to join in the fun because of allergies.
You may be overwhelmed or even doubtful that these allergies are real, I can tell you that they are. Even if you are not buying it, remember it's better to be safe than sorry. You don't want to be the one who sent a kid to the emergency room from you child's party because of carelessness. It's not hard or even expensive to provide alternatives. Fruits and vegetables are usually a safe bet.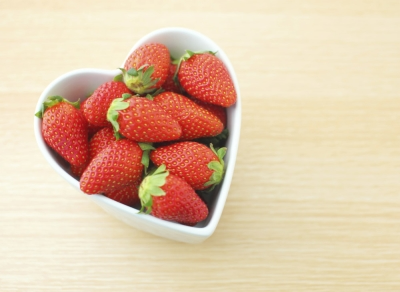 Fruit is a great alternative to candy at a party, especially for kids with food allergies.
Fun toys and jewelry are also a great, allergy safe option for party favors and prizes. Let's be honest the less sugar kids consume is a good thing.
DECORATIONS
Decorations make it feel like a real party, not just a casual social gathering.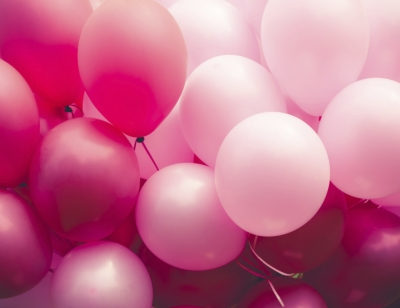 Helium filled balloons are a spectacular way to fill a room with festive color for a Valentine's party.
Traditional
My go to for decoration is usually streamers and balloons but that's mostly because I run out of time, suddenly party day is upon me and traditional party decorations are all I have available. If you plan just a couple days ahead you can pull together some really cute decorations. The ideas on Pinterest are endless. Anything pink, red and white in the form of a banner, bouquet, garland, or paper chain will look great! And remember the way you set up the food display will also add greatly to the appearance of the room at the party.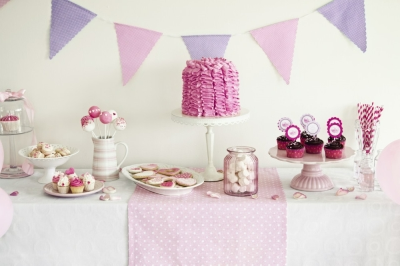 I have seen many a party looking pathetic until the food arrived and then it looked amazing. Make. Pretty. Food.
Tulle
Pink tulle tied or wrapped around white twinkle lights. If you don't have red or pink lights don't worry, just get out the white lights from your Christmas decorations and tie pink, red or purple tool around them. The effect is rather enchanting. Tulle draped around the room in place of crepe paper streamers will look great too. Tulle is really inexpensive and if you are looking to reduce your carbon footprint this is a decoration that can be used again and again.
For more party decoration and food ideas, check out our Valentine's Day Party pin board on Pinterest.
Valentine's Day party ideas are a lot of fun to come up with and share. I hope you have fun putting together this Valentine's party for your kids. Please share your Valentine's Day party ideas with us in the comments below or on our Pinterest page. For more ideas for your home follow us on Facebook, Twitter and Google+