Remodeling Tips: Spice up your basement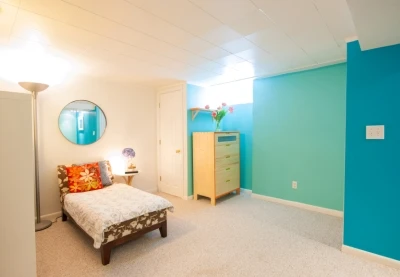 Isn't fall the perfect season for home renovation projects? The kids are back in school. Summer camps and family vacations are over and packed away. The immobilizing cold of winter hasn't snuck in just yet, and your basement is screaming for your attention.
Whether you're planning on sending your kids downstairs to play during the winter or wanting to create extra space for your visiting holiday guests, this fall is the perfect time to finally transform that unfinished basement into the space you desperately need. There's no better (and cheaper) way to get started than with a fresh coat of paint.
Enjoy these seven basement painting tips as you embark on your first fall project!
1) Worried about ugly concrete walls and unsightly air ducts? Paint everything a crisp white. Ducts, concrete walls and cement blocks can be camouflaged with a fresh coat of white paint. Dress up your white space with a few hanging curtains and some fun prints, and you've created the perfect laundry or craft room!
2) Basements are an ideal area to create architectural interest with wooden beams and geometric patterns. Take some artistic to create a lively space in your basement.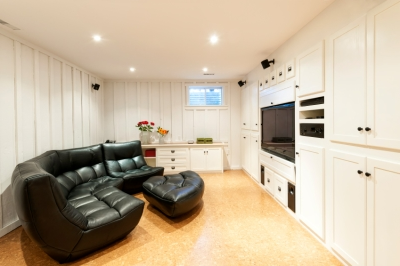 3) Basements typically fall victim to low light levels. An easy solution for dim lighting is a bold color scheme. Use bright colors and lively patterns to bring energy and excitement to your basement.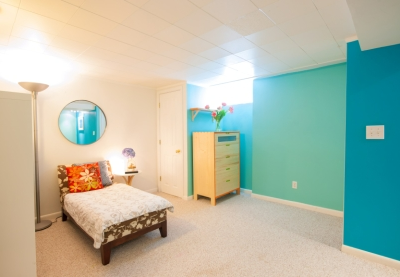 4) If you don't feel comfortable painting bold colors or huge geometric shapes on your walls, you might want to create a focal point wall to brighten up your space in a more conservative way. Warm, bold colors like oranges, yellows and reds will work great in your basement. Paint one wall a bright color, the remaining walls a neutral tone, and add some fun accessories to accent your space.
5) Some basements have existing brick or concrete walls. Instead of covering every space with dry wall, consider leaving a wall in its raw state. A natural brick wall can make your space more interesting. Paint the remaining walls a complimentary color to create an artsy flare for your downstairs space.
6) If you're not interested in leaving an existing wall in its natural state, a concrete wall can be painted by first sealing it with a special masonry waterproofing sealant and then painting over the wall with high quality latex paint.
7) Make the most of what little natural lighting you may have in your basement. Molding, along with white and ivory walls can help create a light and open space for your friends and family to enjoy.