Outdoor Patio Furniture Care and Cleaning Guide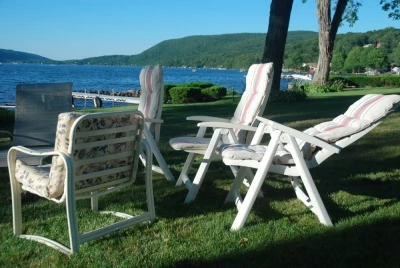 There is nothing more enjoyable than relaxing outside on your patio on a nice day! Patio furniture can be both comfortable and functional, however keeping it clean can be a challenge. The outside elements can really wreak havoc on the different types of materials and fabrics that make up patio furniture. Keeping your patio furniture clean and free of mold is the only way to keep it looking nice and prolong the life of your furniture.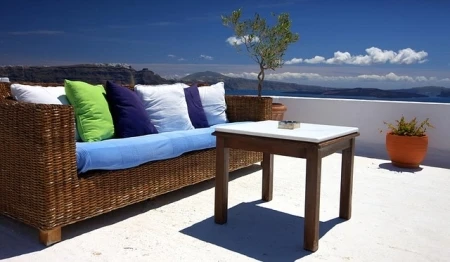 Keeping patio furniture clean can be a challenge.
When it comes to patio furniture, there are several different kinds of materials, which means knowing how to safely clean it is very important. Some fabrics are more sensitive than others and using the wrong chemicals to clean them can damage and even destroy them.
Here are the do's and don'ts of proper outdoor patio furniture care.
Wicker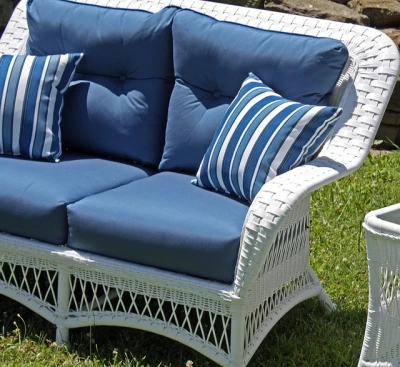 Wicker is a very common material used to make patio furniture. Wicker is made mainly from plant based materials such as grasses and vines. It is normally painted to protect the fibers. Many people consider wicker safe to keep directly outside because of what it's made out of, but that isn't alwys the case. Remember - If you wish to enjoy your wicker furniture on your outdoor patio, bring it in from the weather after use.
Wicker benefits from regular cleaning and a great way to clean this natural material is to use a vacuum with a brush attachment to get rid of any loose dirt or dust that may accumulate between the weavings. If deeper cleaning is required to get rid of mold and set in dirt, warm soapy water and a wash cloth is the best way to clean wicker. This will safely remove any dirt or mold without damaging the material. Since wicker is made of natural materials it actually benefits from the moisture in the soapy water.
Aluminum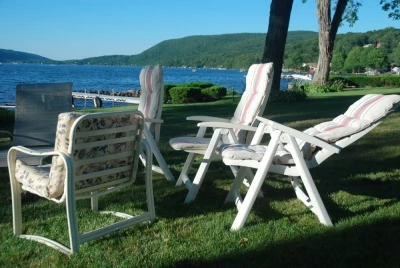 Aluminum is a great material for outdoor patio furniture. It is often the most sought after of all outdoor furniture materials because it does not rust, but it does have a tendency to tarnish and change colors. To prevent aluminum from tarnishing, periodic cleaning is recommended. Failure to clean aluminum may result in pitting and rough spots on your furniture.
The proper way to clean aluminum is to use warm soapy water with some lemon juice. A weekly wipe down of your aluminum furniture with this slightly acidic soapy water will help keep your patio furniture looking bright and fresh. For more tarnished furniture a steel wool pad can be used to get rid of any ruff or dark spots.
When you have furniture outside, the dust settles everywhere. Take time to clean both hard and soft surfaces.
Wrought Iron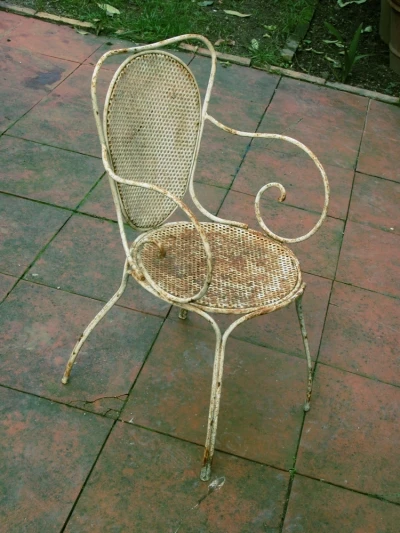 Wrought iron is a very sturdy material used to make patio furniture. For many years wrought iron has been used to make all kinds of outdoor furniture. This elegant and strong material will last a lifetime if properly cleaned. The best way to clean wrought iron is with mildly soapy hot water and a watering hose. Using a thick bristled brush, scrub the surface of the wrought iron toughly to remove any dirt or debris. This should be done at least four times a year to keep your wrought iron from rusting.
For wrought iron furniture that has gone too long without cleaning, rust must be removed using sandpaper. Using a dust mask and safety glasses for your protection, take medium grit sandpaper and sand away any rust. After you have gotten rid of any rust, you must seal your furniture with a paint that's rated for outdoor use.
Pictured above: This chair is actually really cute, all it needs is some new paint!
Want to learn more? Watch this excellent video on how to restore metal patio furniture.


Wood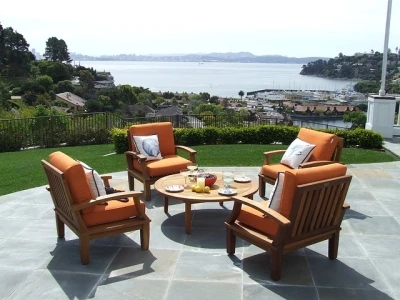 Wood is a great soft material for patio furniture that adds beauty and value to any outdoor deck. However, the sun and rain can really fade wooden patio furniture. Simple cleaning can be done using soap and water and this will remove any dirt that may have accumulated.
To properly care for your wooden furniture, you will also have to sand and re-stain the surface every few years. This will help maintain a protective coating and prevent any rot that may accrue due to moisture.
Fabric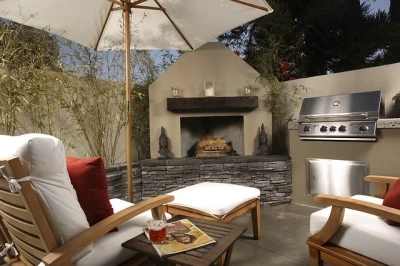 Most patio furniture that is made of fabric are a blend of natural and man-made materials. A cotton blend is a typical patio furniture fabric and is often used to make cushions and pillows. Cagaas is also a very common patio furniture fabric that is widely used. Cleaning most fabric is very easy, and often times you can simply remove the fabric by unzipping it.
Most patio furniture fabric is machine washable so you can simply toss them in the washing machine. For those fabrics that cannot be removed, sprinkle baking soda on top of the fabric and use a wet sponge to scrub out the dirt. Make sure to rinse the sponge out with fresh water in order to remove all of the baking soda. Baking soda is non-toxic and it won't harm you or your furniture. Remember, before cleaning any fabric make sure to follow any instructions found on the label.
For more design tips, check out our blog or follow us on Facebook and Pinterest.
If your patio or home exterior is in need of a paint refresh, schedule a free estimate with the professionals at Five Star Painting. Click here to see the available appointment times in your area!