Pick a Room to Paint: Bathroom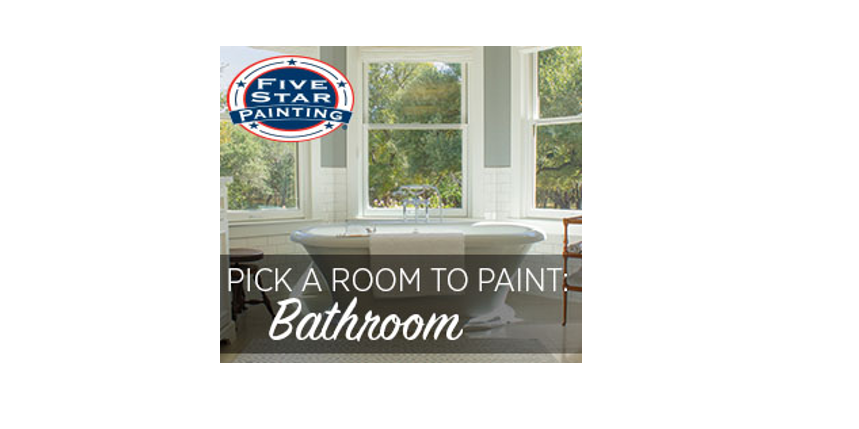 According to Consumer Reports, to paint a room, such as a bathroom, helps add value to your home. If you are planning to sell your home, keep in mind that the bathroom is one of the best areas to invest dollars to help ensure you impress potential homebuyers and receive the best price possible for your home. Bathrooms provide you a great opportunity to create a dramatic impression, in a functional space, with a fresh coat of paint.
Bathrooms present different wall covering challenges because of the moisture produced from the showers, bathtubs and other fixtures. Whether you paint the room or hire a local professional painting contractor such as Five Star Painting, proper surface preparation is vitally important because of the heavy accumulation of water stains, soap scum and chemicals on the walls, ceilings and other surfaces. A satin paint sheen is most frequently used in bathrooms for its durability.
Here are a few considerations for your bathroom paint project.
Select the Right Color
Utilize your creativity and imagination to choose to right color scheme to ensure a successful paint job. Evaluate the bathroom space and carefully consider your palette in order to create a bathroom appearance that fits your attitude and lifestyle.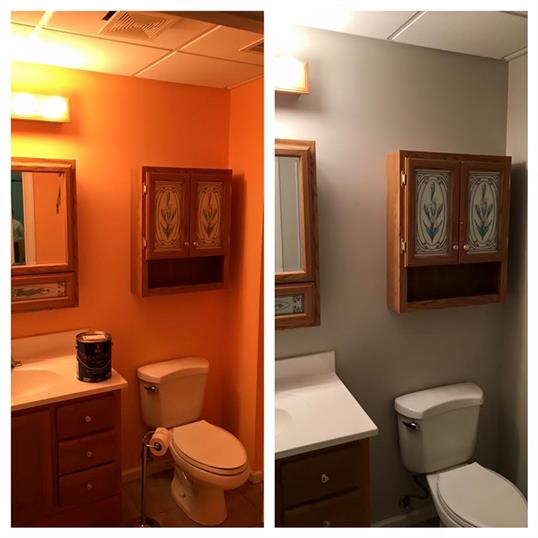 Smoothing Colors
Choose colors that are cool and muted-- earth tones and colors from nature--for a soothing effect. For example, moss and sea greens can give your bathroom a spa-like ambience, or apply a pale blue with gray undertones to make the space exude calm.
Cozy colors
Within the warm spectrum of the color wheel, you can choose rich, deep colors, such as ruby, gold, and aubergine to make your bath marvelously warm and cozy. Apricot, peach,, and pink tones are also colors that can add warmth. These colors can also flatter the skin tone or create elegance in the bathroom.
Energizing colors
Choose vibrant primary colors from the yellows, reds, and blues if you would like to create a motivating and energizing atmosphere. Bright variants of these hues, such as teal and tangerine also radiate an upbeat and positive mood.
Classy colors
Create a stylish or sophisticated appearance with neutral colors, including medium-value browns and creams, such as almond, ivory, and bisque. Add color to the room with your linens, accessories and decorative objects.
Tips on Applying Color for Visual Effects
If you have been wondering how to bring down a tall ceiling in your bathroom or make a tiny space feel larger, a fresh paint job may be the answer. The correct use of color can change the perception of shape and size of your bathroom, including the following examples:
Make particularly small spaces like a powder room stand out by selecting deep, elegant colors.
Open up and brighten a small space by choosing a shade that is similar to the color of the floor, and paint the walls and ceilings the same color.
Make a room feel taller by painting the ceiling an accent color, which draws the eyes upward and makes the room feel taller than its actual height.
Apply darker shades to make the bathroom appear smaller.
Professional Painting Services
Five Star Painting® has dedicated franchise owners located throughout the United States and Canada, who have the mission of becoming the best painting system in the service industry. We provide commercial and residential painting services for both interior and exterior jobs. Contact Five Star Painting and learn how we can help you paint a room to transform the space into something exciting and new.