Ultimate Guide to Oil-Based Paint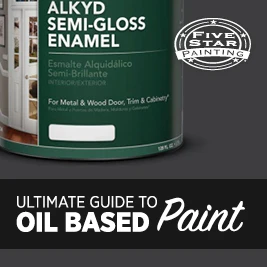 This is the second of three in a series of "Ultimate Guide" to different types of paint. Click for the Ultimate Guide to Water-Based Paint and Ultimate Guide to Non-Toxic Paint!
The glossy, heavy duty finish produced by oil based paint makes it a popular choice for a variety of applications, including cabinetry, furniture, doors, molding, trims, and other interior and exterior surfaces. Oil based paint are often referred to as "solvent based" or "alkyd" paints. Oil based paints contain a much higher level of Volatile Organic Compounds (VOCs), which makes the paint's odor very noticeable. Alkyd paints present a potential health hazard for humans as well as a hazard for the environment because of the high levels of VOCs. Consequently, the federal government and states have tightened regulations in an effort to reduce thequantity of VOCs released into the atmosphere.
Oil Based Paints versus Water Based Paints
Oil based paints have a few differences from water based paints, which account for about 80 percent of the residential market. In most alkyd paints, the thinner consists of a chemical solvent, such as alcohol and spirits. The purpose of the thinner is to improve the texture and flow of the paint and make it easier to apply. In comparison, water based paints use water as a carrier. Once the paint has been applied to the surface and dries, the water vaporizes.
Another key difference between the paints is the binder, which affects the adhesion properties of the paint. It also influences characteristics such as the gloss, shine and resilience of the finished surface. Generally, paint manufacturers use a synthetic resin or a natural oil such as linseed as a binder in oil based paints. Latex is the binder in water based paints.
The Advantages of Alkyd Paint
Alkyd paints are very durable, resistant to moisture and humidity and tough enough to handle daily wear-and-tear. Oil based paints are widely used for high traffic areas in a home such as hallways and play rooms for children. As a result, they are good choices for bathroom, kitchens, bathrooms and also cabinets and furniture. The glossy finish makes surfaces stain resistant and the paint can be wiped down for easy cleaning. Surfaces will not stain easily and will resist fading. The paint retains a uniform shine over a long time. Some of the other features and benefits of oil based paint include:
Versatility - Suitable for most materials. Masonry surfaces require a sealer or pre-treatment. Do not apply directly to galvanized metal.
Durability - Has better adhesion than water based paints on heavily chalked substrates.
Color Retention - Does not retain color as well as latex and is more likely to chalk.
Ease of Application - Greater drag makes it more difficult to apply, but has better one-coat hiding and coverage capabilities.
Mildew Resistance - Most oil based paints contain mildewcide, which minimizes the growth of mildew.
Odor - Has a noticeable scent compared to latex.
Drying time - Eight to 24 hours, but oil based paint flows better and produces a smoother finish than latex paint.
Cleanup - Requires turpentine, paint thinner or other solvent.
When working with oil based paints in your home keep in mind that you will need more ventilation than because of the much higher levels of VOCs. Alkyd paints also requires the use of a different brush than water based paints. It is best to use a brush with natural bristles.
Five Star Painting specializes in all types of residential and commercial painting projects. Our loyal customers return to us time and again because of our professional expertise, superior quality and ability to complete a project on time and on budget. We know the right type of paint to use on each surface to ensure longevity and a beautifully painted surface.
Contact Five Star Painting for a free estimate for your painting project!