It's Time to Paint Your Garage Door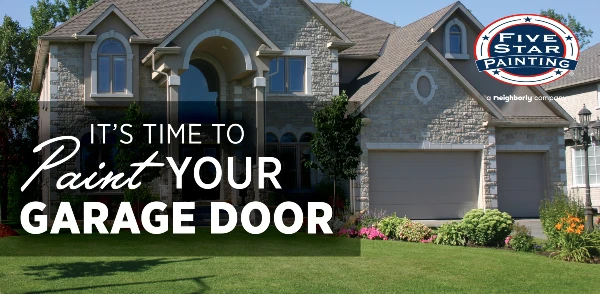 Environmental elements, such as sun, snow, ice and rain can destroy the beauty of the original painted surface of your garage door, and make the door look bland, worn and unsightly. The good news is that you can paint your garage door to improve its overall appearance, extend the useful life of the door and enhance the value of your home.
We recommend that you consult your garage door manufacturer for instructions on how to paint your door. Generally, the following tips will help you get started and on the road to a successful paint project.
Prepare the Garage Door for Fresh Paint
Regardless of whether you're painting an aluminum, steel or wood garage door, make sure to first remove all foreign particles, including loose/chipped paint, dust, dirt and grime, which improves adhesion. This step is to help prevent the garage door paint from peeling prematurely. To get started:
Make a solution of warm water and general household detergent in a 5-gallon pail, or spray the surface with an all-purpose cleaner and use a cloth to remove dirt or grime.
Use your garden hose to thoroughly rinse the surface of the door to remove any residue.
The True Value website recommends that you use a wire brush to remove garage door paint peelings and use a paint scraper to remove rust. Contact your door manufacturer for proper guidance.
Use a palm or circular sander or chemical stripper and a sanding sponge to remove paint from the garage door surface.
Repair wood rot with wood filler. Use paintable exterior caulk to fill any gaps or cracks.
Before priming, rinse the door again and allow it to dry. Sand the surface with 100-grit sandpaper to remove any residual material and provide a smooth surface to which the primer can adhere. Cover hinges, handles, trim, and windows with painter tape and protect your driveway and other surrounding area with a drop cloth to catch any dripping primer and paint.
Primer, Paint and Timing for the Project
Latex exterior primers work well on most surfaces, but you should check with the paint expert at your local paint store to determine what primer works best for your project. For steel or aluminum doors, choose a high-quality latex exterior house paint. You have a variety of options when painting a wooden door. Select a paint with a semi-gloss sheen to simplify maintenance.
We suggest that you purchase a one gallon of paint, which should leave you enough for touch-ups at a future date.
Tips for Priming and Painting
Apply the primer to the surface of the garage door with a paint roller, wide paint brush or sprayer. When using a paint sprayer, protect the surrounding area with a large piece of cardboard. Follow the instructions for the required drying time before you proceed with painting.
Use long, slow strokes when painting, and focus on one lengthwise panel at a time.
To paint the panel sides/lips, raise the door to where the hinges separate.
Cover the door with a single coat and allow it to dry before applying the next coat.
Apply two coats of paint over the primer. Remember, you will need to paint the interior and exterior of the door. Make sure that you have adequate ventilation when working on the inside, and wear a mask and goggles to protect your health.
Not Up to the Challenge?
Contact Five Star Painting today to schedule a FREE estimate! We specialize in residential and commercial painting projects. We offer amazing quality and customer satisfaction for large and small, interior and exterior painting projects. Looking for other home improvement projects? Access our entire network of Neighborly brands for all your home's maintenance, repair and enhancement needs!