What Is Paint Sheen? A Measurement Guide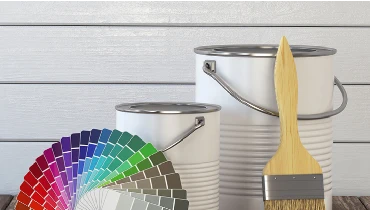 There's more to choosing the right paint besides sorting through color swatches and finding the right one to match your decor. Another important consideration is the paint's sheen, or the finish of the paint. This guide will help you understand what paint sheen is, what the differences are, and which finish will be best for your project.
What is Paint Sheen?
Paint sheen, or finish, refers to the level of shine in the paint. In layman's terms, the more sheen a paint has, the more shine the finished results will have. Generally speaking, the shinier the finish, the more scrubbable and durable the end product will be, but there are tradeoffs. Let's take a look.
Flat and Matte Finishes
The flatter the finish, the less shine on the finished product. The result is a surface that doesn't stand up well to fingerprints and stains as scrubbing is likely to damage the finish. The tradeoff, however, is an exceptional ability to hide flaws and minor imperfections.
Ultra flat finishes are perfect for ceilings and the lack of sheen means every light in the room will not be highlighting all the dents and nail pops of a difficult-to-repair surface. Standard flat finishes provide an elegant finish and are the right choice for low-traffic walls such as bedrooms or formal spaces.
Matte is a step up the sheen scale from flat and does not have much shine. However, it is slightly more durable and can be used in main living areas where occasional cleaning is necessary. It's not recommended for high-activity areas such as hallways or children's rooms.
Eggshell & Satin Finishes
Next up on the sheen scale are eggshell finishes. Much like a traditional egg, the finish isn't exactly glossy, but it does have a bit of sheen which adds to the durability and ease of cleaning. This finish is best for busy areas of the home where a glossier finish may not have the look you're hoping for.
Satin finishes are suitable for virtually any room of the house. Durable enough for kitchens and bathrooms, satin finishes are also not too glossy for your formal dining or living room. If you're looking for a one-sheen-fits-all experience--perhaps if you're painting an entire level of your home in the same color--a satin finish is perfect.
Semi-Gloss and High Gloss Finishes
Glossy paints offer the highest level of durability, but it comes at a cost: glossy finishes are likely to expose even minor imperfections on the surface you are painting. When choosing a glossy finish, surface preparation is key and taking the time to create a surface that's as smooth as possible will pay off in spades.
Semi-gloss finishes are good for messy areas like kitchens, bathrooms, children's rooms, mudrooms, and pet areas. Semi-gloss is also a good finish for trim and doors as these high-impact items are usually cleaned on a regular basis.
A high-gloss finish will add that bit of drama and attraction for your trim and decorative molding. It will also provide a superior level of durability making it an excellent choice for cabinets, doors, trim, or anywhere that gets a lot of abuse.
Get the Best Finish
Glossy paints will always be more durable than their flatter counterparts, but not every area will look best with a high-sheen finish. Higher sheens also require a bit more prep work as imperfections will be more noticeable. If you're not sure which finish is right for your project, check with the experts at Five Star Painting. Our friendly painting experts are always happy to make sure the results of your projects exceed your expectations.