Craft Ideas for Extra Paint Swatches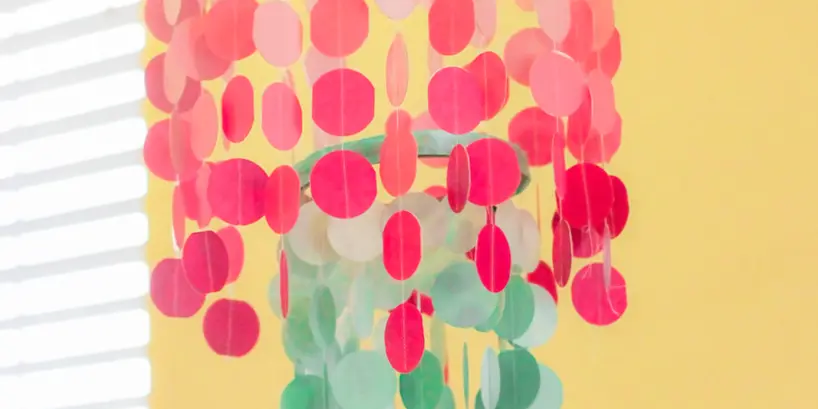 The last time you visited a home improvement store, did you marvel at all the colored paint swatches on display? These free little samples are the key to unlocking cheap, beautiful DIY crafts. Whether you're looking for unique decorations, gift ideas, or other ways to reuse paint swatches, you've come to the right place. Get your creative juices flowing with these fun paint swatch crafts.
Hanging Decorations
With a scalloped hole punch, colored thread, plenty of paint swatches, and a wire frame to mount your creation on, you can make a personalized accessory to hang from the ceiling. Your child's bedroom, the playroom, or your craft room are particularly good locations to display the decoration.
Get the full instructions from Rhiannon Bosse.
Notebooks
Opt for solid-colored samples for this DIY paint chip craft. All you need is a hole punch, binder rings, and any embellishments you want to decorate the pages. Use the notebooks for shopping lists, to-do lists, or doodle pads for your kids. Just be sure to use a Slick Writer pen so the ink doesn't smudge.
Maggie Holmes Design offers the complete directions for this project.
Wall Art
Abstract art is all the rage these days, especially in modern homes. Instead of paying top dollar for wall art, make your own using an old frame and paint swatches cut into perfect squares.
Gift Tags
Liven up your holiday gift boxes with this paint swatch craft. Red and green paint chips are the most appropriate, but you can use any colors you have on hand.
Boxes
Perfect for gift-giving or organizing doodads in your junk drawer, paint chip boxes are a fun craft you can do with your kids.
Garland
Cut out whatever shapes you want from a stack of paint samples to create a garland for Halloween, Christmas, St. Patrick's Day – the possibilities are endless!
Calendar
Do you have an old picture frame? How about a handful of paint swatches in similar colors? Then you have everything you need to make a paint chip calendar! Setting it behind glass means you can use a dry erase marker to update the calendar as the months go by.
Earrings
Make your own brightly colored jewelry with paint swatches cut into different sized circles. A little adhesive spray and silver earring wire are the other components you need to craft your own earrings. These also make great gift ideas!
Bookmarks
The ombre effect of traditional paint chips makes them perfect for a DIY bookmark. Cut a sample down to size, send it on a quick trip through a laminator, and add some embroidery thread to make cute, durable bookmarks for you and your kids.
Party Invitations
The postcard-like thickness of paint chips makes them perfect for sending in the mail. Greeting cards, moving announcements, and party invitations are just a few ideas to draw from.
So Festive offers instructions for making adorable party invitations from paint samples and ice pop sticks.
Paint Services from Five Star Painting
Looking for more easy DIY craft ideas? Learn how to reuse glass containers or make a pinball game out of toilet paper rolls! Then, if you need residential or commercial painting services, please contact Five Star Painting today.