How to Make a Room Feel Cozy | Five Star Painting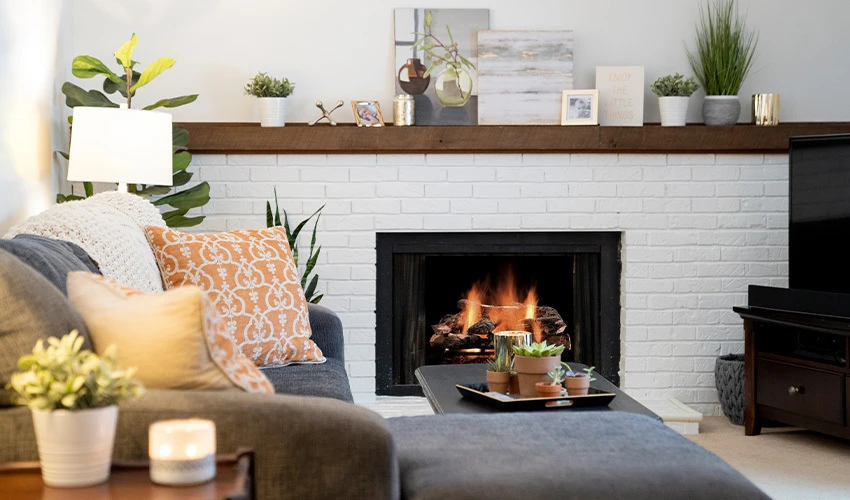 Be it bad lighting, use of space, or the wrong color of paint, it can happen that there's one room in your home that seems not in harmony with the rest of the house. Where it should be warm and welcoming it feels sterile or uninspired and leaves you asking, how to make a room feel cozy?
The solution may be as simple as a fresh coat of paint to liven the mood.
The aura of the space can be entirely transformed by choosing from a few select cozy interior paint colors. Let Five Star Painting tune that one outlier room with a few suggestions for cozy interior paint colors …
Cozy Paint Colors
Wall color sets the mood. Here are a few excellent paint options to transform an off space into a gathering place:
A soothing base color like cream creates a comfortable, classic look. Perfect for larger rooms and spaces, consider it a blank canvas to insert your homey furniture and decor.
Colonial Revival Sea Green (SW2825)
Peacefulness and pleasant vibes will awash from this tint of sea green calm. Warm tones with cool underneath, this hue will draw you into its depths.
A bolder choice, a cheery yet subdued yellow can really make a room inviting. This reserved hue will emit a peaceful glow to your formerly foreboding room.
Deserving of its name, this lively and warm shade of red will invariably inject life into a sterile space. Consider it for an accent wall if you're not sold on letting it all ride on red.
This calming tone is as comforting as a gentle rain pattering on the roof, but without making you feel dreary. Cool in hue but cozy in application, this color will create a snug place to spend a relaxing afternoon.
Intense dark colors can make a space appear small and crowded, but this elegant and rich tone provides a cultured and comfy appeal.
Inject a splash of expressive energy into an otherwise dead space. This vibrant hue will have you gravitating toward its warm aura.
Additional Features
Along with a fresh coat of the perfect new paint color, there are a few additional ways to transform an otherwise rigid room into one with positive vibes:
Adding layers of throws, rugs, and pillows will make a space feel lived-in and bundled up. Like donning a sweater to feel snug, adding layers of warm materials creates a cozy atmosphere.
Apply a variety of textures not only in blankets (though knit exudes cozy) but in the wall hangings and other décor. Couple this tactile tactic with a pop of vibrant color (a bright rug!) and you'll be hard to unseat from your newly founded nook.
When lighting an inviting space, look toward using incandescent light bulbs in a layered format. These bulbs give off a more ambient glow, and when placed overhead in table lamps and along walls (utilize sconces), the effect is less direct, more alluring light. Combine with a dimmer switch to achieve the desired level of illumination.
Your Local Painting Experts
There are many options available to you to make a room feel cozy. With attuned consideration of cozy interior paint colors in tandem with textiles, layer, and improved lighting, a room that feels alienated can be restored to the harmony of the home.
Pick out some cozy paint colors and then contact Five Star Painting to bring the look together! Call (888) 261-3633 or look us up for a free estimate.
Lighting can have a major effect on the mood of a room. Don't have a light fixture or outlet where you need it? Mr. Electric® can help.