Using Ivory Paint to Create Elegance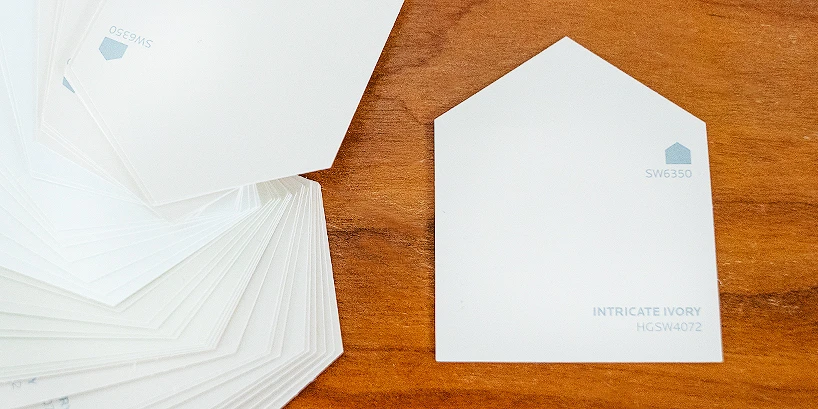 Are you looking for a way to bring some elegance into your home? Ivory is a great color choice for interior walls. Learn more about this trending paint color and unique ways to decorate with it.
Ivory vs. White
Your first thought might be, "Paint my walls white? But that's so boring!" If so, you're confusing plain old white with elegant ivory. True white is often too bright, creating glare at midday and making the room feel cold and clinical.
Ivory is the ideal alternative if you want a light, airy wall color with a warmer base than pure white. This gorgeous neutral hue serves as the perfect backdrop for more intense shades. It's also a beautiful accent color, complementing everything from moody darks to cheery brights and everything in between.
Picking a Shade of Ivory Paint
The first method for deciding on a shade of ivory is to consider how much natural light is in the room. For instance, dark north-facing rooms tend to feel chilly. A warm shade of ivory with dark tints of yellow helps to make the space feel cozy. On the other hand, bright south-facing rooms may benefit from soft ivory with cooler undertones to balance out the plethora of natural light.
Next, look at the existing colors in your furniture and accent pieces. Bring something small with you to the paint store to use as a reference. This helps you find the perfect shade of ivory with similar undertones.
Interior Design & Decorations that Complement Ivory Paint
Designing a room around ivory paint depends on your end goal.
Are you looking to achieve a modern minimalist design? Start on the cooler end of the spectrum with soft ivory. Then, introduce neutral colors, including white furniture, black pillows, light wooden tables, and cool gray area rugs. Minimalism epitomizes the concept of "less is more," so a simple, monochromatic color scheme is ideal when creating this look.
Hoping for a relaxing space to meditate and unwind? You'll want a more vintage color scheme for this, so stick to the warmer side of the things. Think of the aged pages of an old book—this is the sort of ivory you want when creating a relaxing setting. Greens and blues are common accent colors in meditation spaces because they help you relax and make you think of nature. Decorate with wood, potted plants, and soft textiles to complete the atmosphere.
Want to spice things up? Use ivory as your base color, and then add bright furniture and accent pieces around the room. This makes the space pop against the understated ivory walls. You can also draw attention to a focal point by painting one wall a bold hue. If you do this, select the color from another accent piece in the room, such as a throw pillow, area rug, or lampshade.
Interior Painting from Five Star Painting
If you're still on the hunt for the perfect shade of ivory paint, Sherwin-Williams' Ivory Lace and Behr's Ivory Mist are two beautiful colors to check out. If you feel capable of painting your interior yourself, by all means, pick up the supplies you need at a local hardware store and have at it! However, if you don't have the time or skills to achieve perfectly finished walls, leave the job to Five Star Painting.
Schedule a free estimate online for residential interior painting services near you. Then, keep in mind that installing a dimmer switch is a great way to add attractive lighting to your freshly painted room. Give our fellow Neighborly brand, Mr. Handyman a call for dimmer switch installation.