Can You Paint Over Lead Paint? | Five Star Painting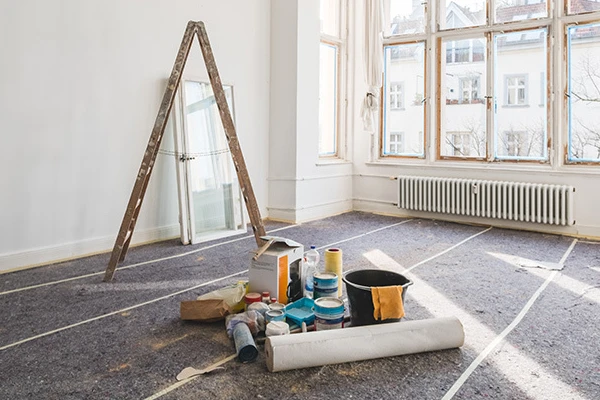 Yes, you can paint over lead-based paint, but not with just any type of paint. Painting over lead-based paint, also known as encapsulation, is an effective lead paint remediation technique. Encapsulation is less expensive than lead paint removal and it's actually safer since it doesn't release lead dust or debris into the air.
Keep in mind; conventional oil- or water-based paints are not encapsulants!
Learn more from the professionals at Five Star Painting about how to effectively and safely paint over lead-based paint:
Dangers of Lead Paint
First, we need to remind you that lead-based paint is dangerous. Always take precaution when working with lead paint, whether it's in good or bad condition, by wearing a respirator, gloves, eye protection and coveralls.
When Not to Encapsulate
If the lead paint you want to encapsulate is peeling, or flaking off, encapsulation is not a good remediation technique because the encapsulation paint will flake and peel off the wall along with the lead paint. Consult with a professional if you're ever uncertain.
Lead paint encapsulation does not work for surfaces that are:
Walked on
Rubbed together
Badly deteriorated
If this is the case, it's important to hire an EPA Certified Renovator. Some Five Star Painting franchisees are properly trained in safe RRP rules for renovation, repair and painting.
Painting Over Lead-Based Paint
Painting over lead paint, or encapsulation, is only effective if the old finish of the lead paint is still in excellent condition – that is, not peeling or chipped. In addition, the encapsulated area must be monitored over time to prevent exposure to lead paint chips and dust. Encapsulation should last upwards of 10 years if done correctly. If it starts to peel, take action immediately.
What Paint Should I Use to Encapsulate Lead?
If conditions are appropriate for painting over the layer of lead paint, there are three types of encapsulants:
epoxy
polymer
cement-type materials
For a DIY project, we recommend an epoxy-based or polymer encapsulation product since they do not require mixing. These should be applied according to the manufacturer's recommendations. Usually they are applied with a brush, roller, or airless spray gun.
Professional Painting Services
We apply lead paint encapsulant as part of our residential painting services, and you can check with your local Five Star Painting location to see if lead paint services are available. Give us a call at (888) 261-3633 or request a free estimate online!
Painting can be a hazardous if you don't take the proper precautions. Especially mothers who are nursing should closely monitor their physical contact with paint, and avoid inhaling fumes. Is it OK to paint while breastfeeding? Learn more on our blog.