Linseed Oil Paint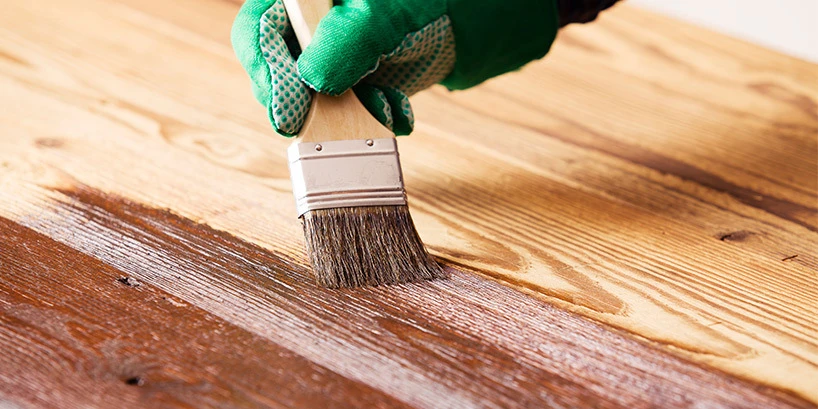 Linseed oil paint is a natural product made from flax seeds and natural pigments. This type of paint is traditionally used in older homes with many wood surfaces, but it can be used on just about any wood surface including siding, trim, and furniture. The plant-based product is also useful on metal surfaces such as fences, gates, and hardware and acts as a rust inhibitor.
Why Choose Linseed Oil Paint?
This type of paint will soak into wood products rather than sticking to the surface like regular paint. What this means is a better, longer-lasting finish that's healthy for the wood as it allows the wood to breathe and remain protected from water and harsh weather conditions. When wood is painted with linseed oil paint, the wood will not rot under the paint.
There are no solvents used in linseed oil paint, either, making it safer to work with, healthier for the environment, and easier to clean up when you're finished painting. Maintaining the painted surface is easy as there's no peeling, so only an occasional cleaning is necessary along with a periodic coat of fresh paint for heavily used areas.
If you choose to use linseed oil paint, it's best to commit to using it for the entire area as mixing acrylic or latex products with linseed oil paint is not recommended. For damp areas, it is recommended to use a product that contains zinc; otherwise, mildew growth may become problematic. Lastly, dry times for this type of paint can be significantly longer than other paints. This is good for your products as it means a solid, durable finish, but it also means that plenty of patience is required!
Cost & Coverage
The price per gallon for linseed oil paint is quite a bit higher than more common paints such as acrylic or latex. On the other hand, a single gallon of it can cover between 500 and 650 square feet, depending on the brand and your specific conditions. When compared to the 250 to 400 square feet of latex and acrylic, it's easy to see the value of each product.
Linseed oil paint also lasts a lot longer--especially on exterior surfaces. It will never peel, flake, or need to be scraped when it's time for another coat. If the finish is looking worn or faded, simply apply another coat and you're all set. Although it will probably be a while before you need to do this as linseed oil house paint can last up to three times longer than other types of paint.
An Easy, Natural Choice
Linseed oil house paint might seem like an old-fashioned choice; however, the exceptional coverage, protection, and beauty offered by the product makes it a sharp competitor for modern products. Add in the environmental friendliness of the product and easy maintenance for homeowners to make linseed oil paint an easy, natural choice. To learn more, contact the experts at Five Star Painting. Now, another old-fashioned choice, and a charming one, are painted barns. Learn more about this tradition, going back centuries. And, once you give your property's structures a facelift, you'll want to make sure the grounds are looking nice too! For a simple mow, or more complex landscaping work, reach out to The Grounds Guys, a fellow brand in our community of Neighborly home service experts.