Eco-friendly Paint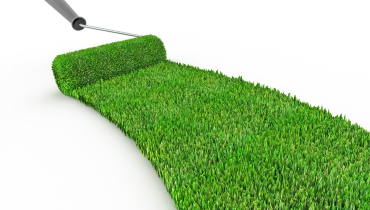 The same techniques and technologies that provide homeowners with a tight building envelope can also prevent fresh air exchange and lower indoor air quality. Fortunately, there are a number of green products on the market today which have low concentrations of volatile organic compounds (VOCs), including a variety of eco-friendly paints. If you're looking for a healthier, more sustainable way to freshen up your home the experts at Five Star Painting® are here to help, with everything you need to know about eco-friendly paint including how to choose the right one for your next project.
What is Eco-Friendly Paint?
Conventional paints contain a number of ingredients which are harmful to your health and the environment including:
Biocides/Fungicides – Fungicides are included to inhibit the growth of mildew, while biocides can help to broaden the shelf life of the paint.

Pigments – Chemical pigments can be toxic so it's important to choose an eco-friendly alternative that uses natural pigments.
VOCs – Both oil-based and latex-based paints contain VOCs which are emitted during application and long afterward. Symptoms of exposure can include nausea, dizziness, eye irritation, respiratory issues, and more.
Not all eco-friendly paints are alike, ranging in composition and concentration of VOCs. The minimum requirements set by the Environmental Protection Agency allow for no more than 250 grams per liter of VOCs in latex-based paint labeled "low VOC", and 380 grams per liter in oil-based paints with the same claim. It's important to note however that several well-known manufacturers including Behr and Sherwin Williams offer even lower options ranging between 50 and 150 g/l and some with zero VOCs.
Regardless of which type you choose, ensure there is adequate ventilation during the painting process and for several days after.
Eco-Friendly Paint Options
Improve the indoor air quality and your health by choosing from these eco-friendly paint options for your next project:
Milk Paint
Milk paint is made from milk protein, limestone, clay, chalk, and natural pigments and is completely biodegradable with no VOCs. It comes in powder form and is mixed with water to form a thin, creamy consistency and is commonly used as a finish for wood furniture or lime plastered walls.
Chalk Paint
Chalk paint is used to give furniture a distressed, matte finish. No prep work is needed other than cleaning, the paint has low VOCs, and it can be used both indoors and out.
Ceramic Paint
Antimicrobial properties and low VOCs make this type of paint ideal for any room in the home. Tiny ceramic beads act as pigment extenders that make it exceptionally durable and able to repel dirt, smoke, bacteria, and more, while antimicrobial protection helps to eliminate the growth of mold and mildew.
Linseed Oil Paint
Linseed oil paint is solvent free, is made from flax oil and natural pigments, and can be applied successfully to wood, masonry, metal, and plastic both indoors and out.
Low/Zero VOC Paint
Low and zero VOC interior paints are typically latex-based and are available in a variety of finishes including matte, eggshell, and semi-gloss. For the exterior of your home, Behr makes a 100 percent acrylic, low VOC paint that resists mildew, fading, and staining.
The team of experienced professionals at Five Star Painting can help to transform the look and feel of your home with interior and exterior painting services, using the finest quality paints and techniques. Call us today at (888) 261-3633 to learn more or contact us online to schedule a free estimate. You can further enhance the quality of your indoor air by reading information from our fellow Neighborly® brand, Molly Maid®, on choosing eco-friendly cleaning products that smell as good as they work.