Best Wood for Outdoor Decks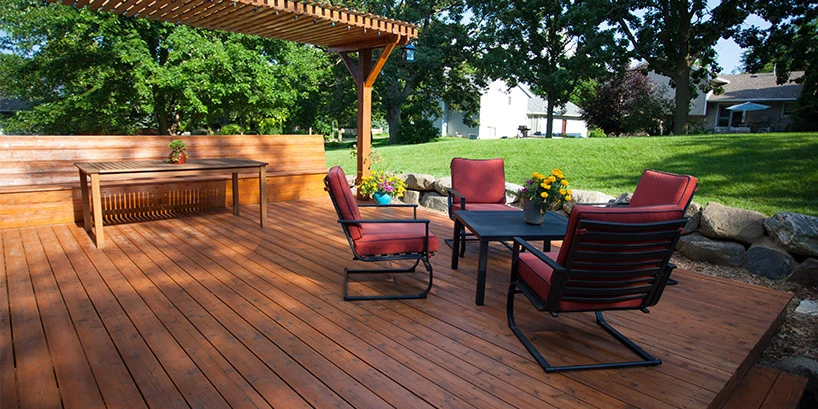 Adding a deck to your home is a great way to expand your outdoor living space while also adding value to your home. Choosing which type of wood to use can seem confusing with so many different options available. Which is best for your deck? Let's take a look.
The Best Wood for Outdoor Decks
Every home and homeowner is different. What's perfect for your neighbor may be all wrong for you. The absolute best product for your deck is one that meets your budget requirements, is durable enough for your needs, is right for your climate, and matches the look you are trying to achieve for your outdoor space.
There are several types of wood decking to choose from, each with their pros and cons, and ranging in price as well. Let's start with the difference between hardwood and softwood. Hardwood decking is made from broadleaf trees such as oak, ash, or beech. Many hardwood species make excellent decking; some do not. Softwoods are from evergreen trees such as pine or spruce and must be treated in order to withstand tough outdoor conditions.
Here are a few examples of wood types used for decking to help you choose what's right for you:
Pressure Treated Wood: This type of decking is affordable, rot resistant, and one of the most popular choices. It is, on the other hand, not as stable as other choices and is susceptible to warping, cracking, and splitting so routine maintenance is necessary to keep it looking good and ready to stand up to outdoor conditions. This maintenance usually includes annual power washing and application of stains or preservatives every other year.
Cedar: Prized for its natural color and beauty, cedar is weather resistant without the addition of chemicals and stains. Cedar is a softwood, and is prone to splinters and cracks so regular refinishing is necessary to prolong its life and reduce splitting.
Redwood, Ipe, Teak: Tropical hardwoods such as these look great and are extremely durable and naturally resistant to rotting and infestations. The one drawback is the expense; you'll pay considerably more for this type of decking compared to pressure-treated lumber. These types will also fade to a silvery color, and can be difficult to stain due to the resistant nature of the wood.
Kiln-Dried Pine: This is another inexpensive option that's also easy to work with and install. This type of decking is often pressure treated before kiln-drying to make it more resistant to warping.
Kebony: Kebony is an engineered wood made from pine. It is treated and heated to seal the wood and deliver a product that can last up to 25 years with very little maintenance. It will accept an oil-based stain or fade to a natural silver color.
Composite Decking: Made primarily from wood fibers and recycled plastics, this type of decking is extremely durable and will not splinter, warp, or rot. It is one of the most low-maintenance types of decking, but it can be much more expensive than other natural options.
The Right Choice for You
Looking to give your deck a facelift? Contact the experts at Five Star Painting to get a free estimate on paints or stains. Our experts will review your options with you so you're confident you're making the right decision. Once you've decided on your decking material, learn the logistics of building a deck from Mr. Handyman, a fellow Neighborly company.