Pumpkin Painting Ideas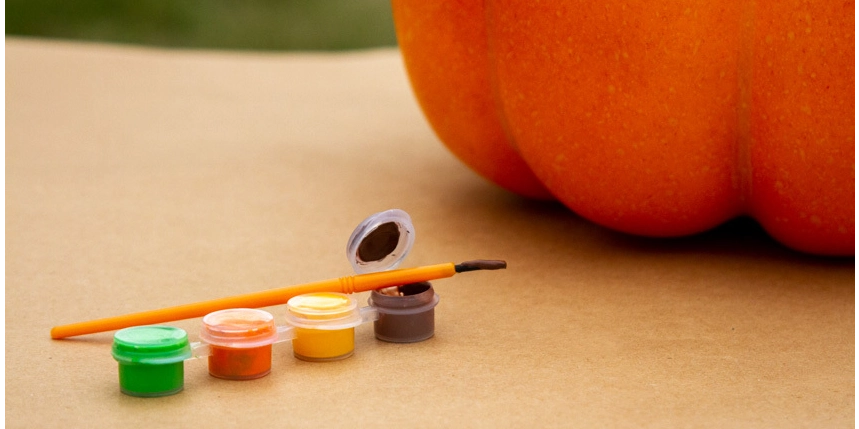 Take your Halloween and fall decorating up a notch with creative pumpkin painting ideas. Painting pumpkins is a fun way to get in the celebratory spirit without the mess of pumpkin carving. If you are looking for a fall craft project for children who are too young to use sharp knives, this project delivers. Also, this is a great option if you are dealing with a small space, have limited resources, or would just like to avoid slimy pumpkin guts.
Painting Pumpkins: How to Get Started
Before you begin painting pumpkins, it's a good idea to get all of the right supplies on hand, including the best paint for the job. If you are painting with children, choose a washable paint that won't ruin their clothes. Spray paint, acrylic paint, and puff paint are good choices for an adult pumpkin painting project, but they can lead to permanent staining, so if you choose these types of paints for children, make sure they are wearing art smocks or old t-shirts to protect their clothing.
In addition to paint, other materials you will need include:
Pumpkins: The ideal pumpkins for painting are those free of blemishes and with shallow ribbing, which provides for a smoother painting surface.
Soft cloth, mild soap, and water: Use these items to wash and dry the pumpkin, removing any grime that may interfere with painting or accelerate the decaying process.
Sealant (optional): Apply a brush or aerosol sealant to the pumpkin prior to painting to enhance the surface and the paint job.
Paint brushes with soft bristles or sponge brushes: Softer brushes will prevent scratches and damage to the pumpkin while painting.
Stencils, traceable patterns, and masking tape: Taping on stencils or traceable patterns gives you the opportunity to use unique designs for your pumpkin painting project.
Construction paper, felt, cardboard, and a hot glue gun (optional): Add ears, hats, and other accessories with a hot glue gun (adult supervision required).
Fun Pumpkin Painting Ideas to Try
From creepy monsters and black cats to fall designs that will be in-style beyond Halloween, there's no shortage of pumpkin painting ideas you can try. Here are some of our favorites to get the creative juices flowing:
Frankenstein: Paint the pumpkin green all over and use a stencil to paint the eyes and mouth. Finish off with a few carefully placed black stiches and more black paint for a squiggly hairline.
Spooky black cat: Paint the pumpkin black all over and allow to dry; tape on a stencil and brush on white paint for the cat face; then, use the hot glue gun to attach ears and even a tail.
Splatter paint (ideal for an outside painting project): Choose two to three colors of paint and dilute 1:1 with water. Load the brush with the paint and flick the brush downward over the pumpkin. Splatter one paint color, wash your brush, and continue with the other colors. You can do this on a bare pumpkin or paint the entire pumpkin white or black first; once the base is dry, you can finish with the splattering technique.
Harvest pumpkin: Choose a fall design that will allow your pumpkin to shine all the way through the season. Use a traceable pattern, a leaves stencil, or a stencil with letters that spell out an autumn-friendly message like "Happy Fall, Y'all" or "Give Thanks."
If you are looking for other last-minute decorating ideas for Halloween or the fall season, remember to call on your local experts at Five Star Painting. While we may not take on your pumpkin painting project, we are here to help you with professional house painting, fence painting, and more. Schedule your estimate online or call (888) 261-3633 to learn more or to schedule services.
Looking for more Halloween craft ideas? Our fellow Neighborly company, Molly Maid, has a few great ideas! Learn more.