What is a Virtual Estimate?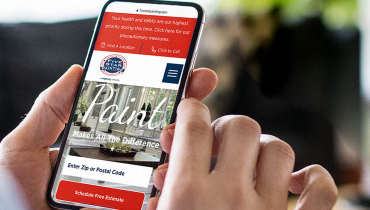 A "virtual estimate" is a term we use to refer to the creation of a price quote for your painting project developed from a remote site, or not at the location of the project. At Five Star Painting, our top priority is to keep our customers and our crews safe and healthy. While we continue to innovate and create new ways of serving our customers, offering virtual estimates is one of the many ways we are adapting to better serve our customers.
Learn more about the steps we are taking to protect our customers and our teams.
Benefits of Virtual Estimates:
Avoids in-person interaction.
Measurements and project details will be collected via phone, Facetime, Zoom or whatever communication method works best for you. The quote will be emailed, so you can review and ask questions.
Helps you check projects off your to-do list while following stay-at-home orders.
Getting a price quote and deciding who to hire can often be the lengthiest part of the painting process, and thanks to virtual estimating, we can work together to complete this step.

Then, based on local guidelines and your schedule, we will schedule the painting work to be completed.. It is basically like reserving your spot inline!

Or, if the work is to be completed exclusively outdoors, it's possible that work could begin now, since interaction with teams would be unnecessary. This would be determined by the specifics of your area's restrictions.
How to Schedule a Virtual Estimate
Online – Our online scheduler allows you to pick the date and time for your estimate. After you select your time and input your contact information, we ask that you type "Virtual Estimate" in the project details box. You will receive a confirmation email and phone call regarding the time slot you selected.
Phone Call - You can also call 888-261-3633 and simply request a virtual estimate by phone. You will also receive a confirmation email with the time slot for which you are scheduled.
What if I Prefer an In-Person Estimate?
We understand; sometimes technology does not replace in-person interactions. In general, on-site estimates can still be completed for Exterior projects, as well as vacant buildings like unoccupied residences and closed businesses or schools. Keep in mind, all Five Star Painting locations are independently owned and operated, therefore any exceptions to this would be at the discretion of the local owner and in compliance with current local mandates.
Give it a Try and Support Local!
If you have a painting project in mind, we invite you to schedule your free estimate with Five Star Painting and experience a virtual estimate for yourself! Whether it is in person or over the phone, we strive to deliver a five-star quality customer experience to everyone we reach.
All Five Star Painting locations are independently owned and operated by a member of your local community. Support your local businesses by contacting Five Star Painting today!
888-261-3633 or fivestarpainting.com/schedule-estimate
_______________
In the News
Trade magazine, American Painting Contractor, recently published an article about Virtual Estimates, featuring Five Star Painting's brand president, Matt Kunz. Read the article here.
As quoted, "(We) have found that calls, emails and text all open up the lines of communication. There is no defined start or stop. The conversation can continue, and the relationship seems to be better."
We also ask that homeowners keep in mind, "This is an estimate not an exactimate." If after receiving a virtual estimate, we arrive on the job and the parameters have changed, the final price could go up or down. Rest assured, a change order will be presented prior to the job start, in either instance.