Best Paint Colors for Low-Light Rooms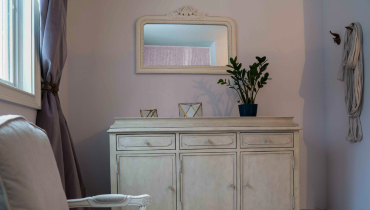 When considering paint colors for windowless rooms or others with little natural light, many instinctively opt for clean white. While you may be tempted to brighten a room with a bright color it can often have the opposite effect. In fact, some of the best paint colors for low-light rooms lean toward the warmer rather than vibrant side of the spectrum.
Not sure which color may be right for you? Let Five Star Painting help you pick a palette of the best paint colors for rooms without natural light!
Rooms with low natural light are more susceptible to shadow and gray tones, which draw out cool colors that can make the room feel dark. This can make a hallway or north-facing room appear gray, dingy, and sparse. Lighten and liven up these locales with this list of paint colors for rooms with little natural light:
Agreeable Grey (SW7029)

If you're going to opt for cooler colors for your windowless room, give it a boost with some warm undertones such as Agreeable Grey. The beige undercurrents soften the starkness of the grey and would play well for a larger space such as a bedroom. Look toward a matte or satin finish for more trafficked areas. Finally, liven up the location's feel with vibrant accents and fabrics.
Lite Lavender (SW6554)

Once again relying on a medium-tone heightened with a warm under hue, this hint of lavender offers a soothing feel. Recommended in eggshell or satin gloss, this color is perfect for a communal and relaxing dining room. Versatile and inviting, it can be matured with white, black, and grey furniture or made more lighthearted with bold blue or purple pairings.
Wheat Penny (SW7705)

This deeply warm tone is bolder and would work well for a cozy space. Consider this camel tint in an eggshell finish for the intimate confines of the breakfast nook. Even out this dense color with subtle accents such as white trim, patterned fabrics, and light carpeting.
Golden Plumeria (SW9019)

While not for everyone, a well placed pale yellow such as Golden Plumeria can inject some cheeriness into a dim space. Consider this imitation of natural light for the kitchen in a high- to semi-gloss for durability. Boasting a more classic styling, complement this hue with white woodwork cupboards and warm natural wood accent.
Expressive Plum (SW6271)

This broody tone can have a moody presence and is prime for a relaxed atmosphere. Apply to the snug vibes of the parlor or TV lounge in eggshell gloss. Smooth out this soothing color with warm metals such as brass, copper, and bronze and a gallery-wall of artwork.
Rainwashed (SW6211)

This cooler color with suggestions of blue and green underneath can liven up a smaller space. Utilize this aqua-tinted tone in durable semi-gloss for a bathroom with limited light. A fine pairing for traditional interior, this color matches with crisp white details and upholstery with deep red tinge.
Forestwood (SW7730)

Another bold sampling, this deep and rich deep green would complement a statelier study such as an office or library in satin or eggshell gloss. Utilize for a warm contemporary styling and pair with white and black accents for a more striking setting.
Brighten a Room
Along with employing the best paint colors for rooms without natural light, here are a few simple additions and designs that can truly enhance a dimly lit space or a space without any windows at all:
Let in Light

While this may seem obvious, implementing minimal window coverings such as blinds or roman shades will make the most use out of the available light. Avoid heavy drapes and treatments that block natural light from entering the space.

Minimalize

Filling dim spaces with large dense furniture can make a room appear cramped and gloomy. Try slim furniture with sleek lines and profiles to open up the space and lighten the mood.

Mirror, Mirror

Affixing a long, slim mirror to an otherwise dark interior will reflect available light. The benefits are two-fold, as the redirected light will make a smaller room appear both brighter and more spacious.

Diffuse the Situation

Situate lamps and lighting upward and directed toward the walls and ceiling to reflect more light off of surfaces. The enhanced indirect lighting will up the ambient glow of the space.
Your Local Painting Experts
Not exactly sure which paint colors for low-light rooms would work best your home? Let Five Star Painting brighten your day and your dwelling! Check us out online or call (888) 261-3633 today to schedule your free estimate!