Looking to improve your kitchen? Great news - you don't need new cabinets! Having your cabinets professionally painted is a perfect option for improving your kitchen effectively and affordably.

And with our cabinet painters at Five Star Painting of Boston North Shore at the helm, you can rest assured you're getting quality work. Our team is backed by a solid reputation and is known for providing professional, punctual, and responsive service.
Our cabinet painters are customer-focused and quality-driven! Book your free estimate by contacting us online or by calling us!
Why Choose Us to Paint Your Cabinets?
We're locally owned and operated here in Danvers.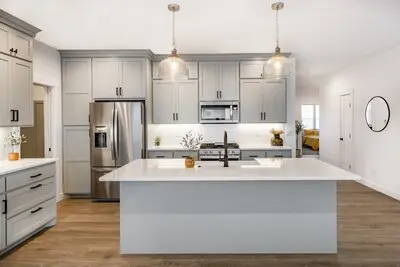 We've had the privilege of serving many customers throughout the Boston North Shore. At Five Star Painting of Boston North Shore, we deliver customer-focused, quality-driven™ service.
How do we do this? Keep reading to find out:
We Stay On Time & On Budget. After the free estimate service, we can go over timelines of when we can start and complete the job. We also review all pricing with you up-front. We'll complete your job when we say we will and stick to the quoted price.
We Actively Manage Your Project. We'd assign a dedicated Project Manager to your cabinet painting project. It's their job to stay in touch with you, ensure the project is getting done on-time, and to ensure you're completely satisfied.
We Perform a Final Walk-Through. Your Project Manager or our owner will personally review our completed work to ensure you're beyond thrilled with our service.
We Warranty Our Services. We back our cabinet painting services with a two-year warranty. With us, your job isn't done until it's done right. We take this promise very seriously.
We go above and beyond to deliver premium cabinet painting services.
Searching for trusted cabinet painters in Danvers? Book your free estimate by calling us or by scheduling online today.
Bringing Your Kitchen, Bathroom and Laundry Room Up to Date
If the cabinets in your kitchen, bathroom or laundry room look dated but don't have any significant damage, repainting them is a far more sustainable option than replacing them. This is one of the driving factors contributing to the current popularity of painted kitchen cabinetry.
Want to Change the Color Personality of Your Cabinetry?
Our local cabinet painters can paint the following cabinets and other features in your home:
Kitchen shelving, cabinetry and islands
Bathroom vanities
Built-in nooks, storage spaces and shelving units
Laundry storage areas and shelving
Storage shelves in your garage
If your place is anywhere in the Danvers area, we're available to make any of these easy transformations in your home.


Ready to fall back in love with your home? Our Danvers kitchen cabinet painters can help. Contact us to book your free estimate.
Cabinet Painting | Frequently Asked Questions
Can my cabinets be painted in winter?
Yes, in fact, winter can be a great time for cabinet painting. The work is being done inside your home and therefore isn't subject to premature failure due to winter's cold and wet conditions outside.
Especially if you need multiple painting projects done around your home, getting cabinet painting done during winter leaves you ample time during late spring and summer for your exteriors.
How effective is cabinet painting?
Cabinet painting can be very effective. In one instance, some first-time buyers' decision to buy their first home was largely due to the spacious and modern-looking kitchen. Any idea what the secret was?
The cabinets had been painted a modern, trendy grey which made an amazing impression on these buyers. Keep in mind these cabinets were ancient, but some new paint made them look as good as new.
Ready to get started? Give us a call or reach out to us online to book your free cabinet painting estimate!
Hiring Kitchen Cabinet Painters vs. DIY
Wondering if you should hire kitchen cabinet painters near you or handle it on your own? You aren't alone! Below we list some advantages of hiring professionals and some disadvantages of the DIY approach.
The Advantages of Hiring Professionals
Our professional cabinet painters have years of experience and specialized knowledge that allows us to work quickly and efficiently. This results in beautiful, long-lasting workmanship. We're also licensed and insured, offering you additional peace of mind.
Professionals can also help match your desired colors and finishes and help protect your cabinets from the wear and tear of everyday use.
The Disadvantages of DIY
In contrast, DIY cabinet painting projects can take considerable time and effort with less-than-desirable results.
Depending on how much time you have and the size of your kitchen, cabinet painting could take weeks or even months to complete. From disassembling your cabinets to sanding and priming, there are a lot of steps involved to get a long-lasting and high-quality finish.
Furthermore, if not done properly, DIY projects may result in damage or unintended color changes due to improper paint application or improper painting techniques.
You're welcome to check out our photo gallery to see some of our complete cabinet painting projects.
If you'd like to learn more about our kitchen cabinet painters near you, give us a call. If you'd like a free estimate, you can book online today.
Some Best-Loved Kitchen Cabinet Trends You Might Want to Consider Trying
The following are some of the most frequently requested paint color schemes for cabinetry:
White-painted kitchen cabinets are as popular as ever.
Black kitchen cabinets are stylish, and they pair well with the quartz and soapstone countertops that are so trendy at the moment.
Gray kitchen cabinets are still going strong.
Blue is an up-and-coming color for trendy kitchen cabinets.
You can paint upper cabinets a different color than lower cabinets for one of the most contemporary looks.
It's currently chic to paint your kitchen island and your kitchen cabinet in interesting yet different colors — perhaps one of them in cornflower blue and the other in navy blue.
Like any of these ideas? Give us a call or reach out to us online to book your free estimate. We look forward to serving you!