The interior of houses can go through a lot of wear and tear, especially if you have children. Over the years, your house may start to look drab, and you may decide it's time to refresh its look.
If this is where you're at, call Five Star Painting of Buford. We work with painters who can help refresh your home. We can discuss exactly the look you're going for, which rooms you'd like painted, and what kind of budget you have.
Our Priority? Satisfying Our Customers!
At Five Star Painting of Buford, we work hard to give you exactly what you're hoping to achieve with a paint job. The painters we work with have years of experience, and they will put their industry skills to use throughout the duration of the job.
In addition, they will come in with all the tools and equipment they need to get the job done well. Updating your home may not be the only reason you need Five Star Painting.
If you are looking to sell your home, you may be looking for a professional company to paint your interiors before you put it on the market. This is where we come in. We work with painters who will strive to complete the job to your satisfaction and work hard to meet your deadline.
When you need to refresh your interiors or paint your home before you can sell it, give us a call or contact us online. We will be happy to offer our services, starting with a free estimate.
Our Process
When you work with Five Star Painting of Buford, you will benefit from a nearly hands-off approach to painting your own home. Let us take care of it for you by following our tried-and-true process:
First, we have you select your preferred paint colors.
Second, after you have selected your paint colors, the painters we work with will do their best to cover and protect your home. They will strive to bring all of the equipment they need like drop cloths and plastic to help protect your floors, windows, and any furniture.
Third, after they have taken all of the necessary steps, the painters will start the job.
Lastly, the clean-up. Our painters ensure that they leave your home better than when they arrived by professionally and efficiently painting your room(s) and leaving your home mess-free.
The Types of Rooms We Paint
Five Star Painting can paint many different kinds of rooms in your home. We paint the following, which includes, but is not limited to: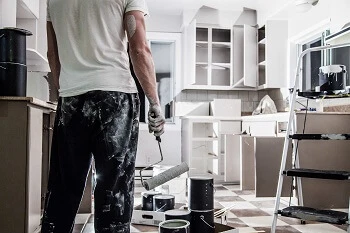 Kitchens
Basements
Attics
Bedrooms
Living rooms
Dining rooms
Hallways
Entrances
Garage Floor Painting
Mural Painting
When you need to give a new look to your interiors, call Five Star Painting of Buford or contact us online. We believe that you'll be pleased with our professional services. Free estimate!