Transform your home in Lutz, FL, and the surrounding areas with the help of the professionals at Five Star Painting of Citrus Park. Our expert painters are here to assist you in redesigning your space, providing exceptional residential interior painting services for every part of your home. Whether you want to refresh outdated paint or enhance your home's appeal before selling, our team ensures a job well done from start to finish. Take a look at our customer reviews and photo gallery to see examples of our outstanding work. Learn more about our residential interior painting services and get in touch with our team today to schedule your free estimate.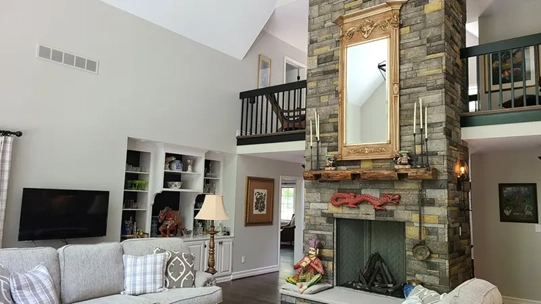 Our Process for Residential Interior House Painting
At Five Star Painting of Citrus Park, we begin our interior house painting process with a free estimate to accurately assess your space and determine the project's price and duration. Our comprehensive approach includes the following:
Color Selection: Unsure about color choices? We offer a Complimentary Color Consult for every project to help you find the perfect hues to transform your space and enhance your home's appeal.
Area Protection: We take care and protect your furniture, valuable items, and floors during the painting process.
Surface Preparation: Before painting, we fill holes or cracks, and seal stains on your walls or ceilings, ensuring a smooth canvas.
Paint Application: Using premium-quality paints, we expertly apply the chosen colors to breathe new life into your interior spaces.
Clean Up: Once the paint is applied, we carefully remove coverings and materials, sweep the floors, and restore everything to its original state. While the paint dries, you can comfortably remain in your home.
Area Inspection: At the end of the project a Production Manager will do a final walkthrough to ensure everything is in order and we've earned out 5 Star rating, leaving you to enjoy your beautifully painted home
Expert Finishing for Every Room in Your Home
We offer interior painting and staining services for any room or area in your residence, including basements, garages, and attics. Our skilled team can transform your walls, ceilings, floors, and more. Here are just a few examples of areas we paint:
Kitchens
Bedrooms
Bathrooms
Dens
Foyers
Hallways
Studios
Home Theaters
Dining Rooms
Workshops
Living Rooms
Home Office
Achieving an Immaculate Finish Through Proper Preparation
To achieve a flawless finish, meticulous preparation is essential. At Five Star Painting of Citrus Park, we take the necessary steps to ensure the best results.
The Benefits of Having Your Home's Interior Repainted
Repainting the interior of your home offers a multitude of benefits that can transform your living space and enhance your overall quality of life. First and foremost, a fresh coat of paint can completely rejuvenate the aesthetic appeal of your home, giving it a modern and updated look. It allows you to personalize your space, reflecting your unique style and preferences. Beyond aesthetics, repainting also has practical advantages. It helps protect your walls from wear and tear, preventing damage caused by stains, scratches, or fading. Additionally, choosing the right colors can significantly impact the mood and atmosphere of each room, creating a sense of tranquility, energy, or warmth. Whether you're preparing to sell your home or simply seeking a refreshing change, investing in professional interior painting can revitalize your living environment and leave a lasting impression.
Why Choose Us for Residential Interior Painting Services?
Customers in Lutz and Odessa, FL, trust and rely on our interior painting company because we stand out from the competition. Our company values and dedication to clients set us apart compared to other local interior painters. Here's what we offer:
Professional expertise
Superior quality
Clean work area
On-time service
On-budget projects
Contact Five Star Painting of Citrus Park Today
Bringing your home to life with professional interior painting is made easy with Five Star Painting of Citrus Park. Whether you're redesigning rooms, enhancing curb appeal, or painting a newly built home, our experienced painters are here to help. We are happy to serve homeowners near Lutz and Odessa, including surrounding and neighboring areas such as Citrus Park, Keystone, and Town 'n' Country, FL. Our interior house painters are readily available to answer any questions about our residential painting services and provide free estimates for your next residential interior painting project. Contact us today.