Cabinet Painting in Cumming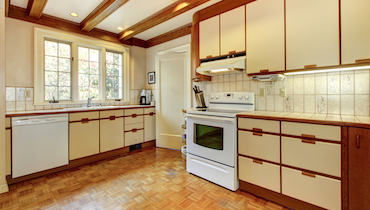 If you are considering painting your cabinets in Cumming, GA it is highly suggest that you research painting contractors in your area. Our company has a lot of experience in the area of cabinet painting, so our goal is to inform you as a customer but also win your business on our knowledge and track record. This type of specialty painting has the most variation of opinion on process so it is important to find reputable companies first and then ask a lot of questions on their techniques. We have run across a few boutique cabinet painters that might have good techniques but have poor business acumen that will ruin a good painting project. Things like, showing up on time, calling people back, sending an estimate and good communication are all just as important as good craftsmanship.
I would like to describe why people have hired us in the past, as you might be able to relate to this type of cabinet painting customers. Our past cabinet customers are similar in a few ways.
They understand cabinet painting is 1/5th of the cost of replacing existing cabinets. Our average cabinet painting job in Cumming GA is anywhere from $2500-$5000. It depends on the number of openings (doors and drawers) that exist in your kitchen.

Most of the customers have an idea of what it will look like and have done research on Pinterest to see how wood appears when painted.

Most of the cabinets we are painting are currently wood. Either a light oak or a pine color. A few customers have had darker wood but the color trend in cabinet painting in Cumming is to lighten a kitchen not darken it.

With regards to color, most cabinet painting customers in Cumming are painting their cabinets white or light grey. Our color consultant can help you pick the right color for your cabinet job. Trust us, it is NOT easy finding the right grey or white for your cabinets. There are so many color shades to choose from at Sherwin Williams it is important to look at the undertone of the color swatch.

If the cabinets have been brush painted previously and brush strokes are currently showing, then our customers realize that those brush strokes will also show through after we complete our painting process. Our process does not involve completely stripping off the previous paint or stain.

Our past customers realize we will be using a section of their garage to setup a spray booth to control over-spray and keep the environment free of dust. Their kitchen will not be useable during this time.

Many of our past customers are doing this type of update in an older home 10-50 years old. Many of the newer homes in Cumming GA already have white or grey cabinets so that is what they are competing with to capture the attention of that new home buyer. A few of our customers are having to paint their cabinets to sell the house and make it look new. It does work, if it is done right and done by Five Star Painting of Cumming.
Call or Schedule your free estimate online today!
Contributed by Scott Specker, owner Five Star Painting of Cumming