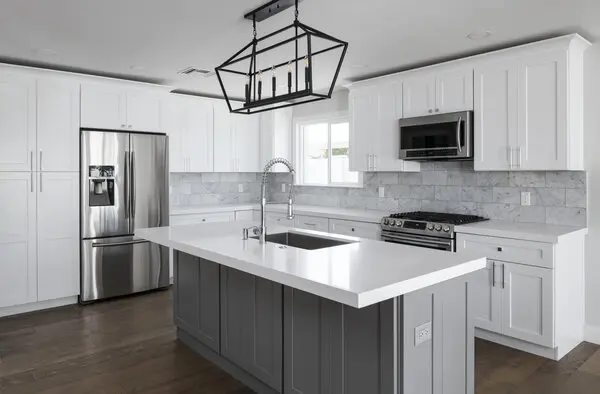 Are your kitchen cabinets starting to look outdated? If so, you might think that replacing your cabinets entirely is the only solution. Did you know that you can save a considerable amount of money and time by having your cabinets repainted?

Looking for kitchen cabinet painters near you? Call or schedule your free estimate online today!

The Best Results Come From the Best Painters
We carefully vet and check each of the painting contractors we work with for cabinet painting services. They make a commitment to being on time and on budget. Our contractors understand the value of professionalism and courtesy and do everything they can to pass these things on to you and your family. Our contractors will also strive to keep their job site clean when the job is completed.
Quality Materials
We want our work to be quality, but we also want it to be completed as quickly as possible. This is why we use quality paints like Sherwin-Williams® and Behr® for cabinet painting projects.
Convenience
Don't undertake the time-consuming and difficult process of refinishing your own cabinets. The process is much more involved than you think. What could take our clients weeks, the painting contractors we work with can complete in a far shorter time, thanks to their superior tools and knowledge.
Frequently Asked Cabinet Painting Questions
How long will newly painted cabinets last?
Painted cabinets are designed to last! The time your cabinets new coat will last will depend on a variety of factors. With proper upkeep and maintenance, you can expect your freshly painted cabinets to last up to 8-10 years. Looking to learn more about how cabinet painting can benefit your home? Contact us at Five Star Painting of East Jacksonville today!
Give us a call or schedule an estimate online from the best painters near you today!