How often should you paint your house? Great question! Exterior paint requires maintenance to protect the wood and your investment. How often depends on variables such as location, climate, and more. In general, homeowners should expect to repaint their exterior siding every 10 years.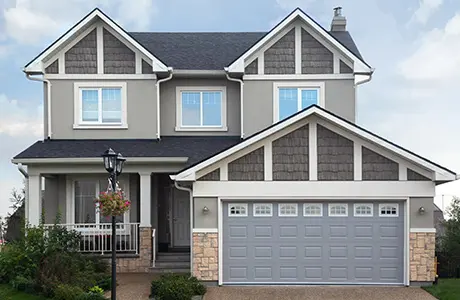 The team at Five Star Painting wants to help you keep your home looking great, which is why we created a resource to help you establish an exterior wood maintenance routine. Regular maintenance of wood surfaces protects them from weather and extends their lifespan. Use the resources below to educate yourself about how to properly care for your exterior wood siding.
How Long Does Exterior Paint Last?
As a rule of thumb, exterior house paint lasts 7 to 10 years. However, there are many factors that affect how long your new coat of paint will last.
What Affects the Longevity of Your Home's Exterior Paint?
Prep work is an important set of tasks to see through before you paint outdoor siding. The surface must be free of debris, loose paint must be removed, and the paint must be properly applied on a dry surface. If prep work is done incorrectly, the paint will degrade in a few years. Temperature and humidity are also important factors to consider when painting a house, as you'll want to time it right. The type of paint, how many coats, and even the color can also affect paint durability. Darker colors absorb more sunlight and heat and tend not to last as long.
Climate and light also affect how quickly a paint deteriorates. Use the guide below to determine what factors may be degrading your paint:
Which direction does it face?
The north side of your house isn't as exposed to the sunlight as the south-facing side. Since UV light is one of the main factors that breaks down exterior paint, south- or southwest-facing areas are usually the first to show wear. Pay attention to the wood or siding that faces these directions. The same goes for certain sides of your home that may face prevailing winds.
What's your climate like?
Extremes in weather, moisture, and temperature are harsh on wood finishes. If you live in a desert climate or an area that receives significant moisture, keep an eye on areas that are not protected from these elements.
What kind of wood is it?
Softwoods like cedar or pine are more susceptible to damage than hardwoods like oak or ipe. Hardwood may cost more, but they don't require as much maintenance and can be more rot-resistant.
Signs You Should Paint Your House
There's peeling or flaking paint
Colors are faded
The wood and paint have a chalky appearance
You want to increase curb appeal
It's been more than 10 years
You're patching stucco or replacing wood boards
Painted Wood Siding Maintenance
When you need help with your painting and prep tasks, the experts at Five Star Painting are ready. Our goal is to keep your project on time and on budget. We will help you narrow down your color and finish options to achieve the perfect look. We'll do all the prep work to ensure your new paint lasts, and we'll clean up so your home looks like we were never there.