What Are the Benefits of Professional Cabinet Painting?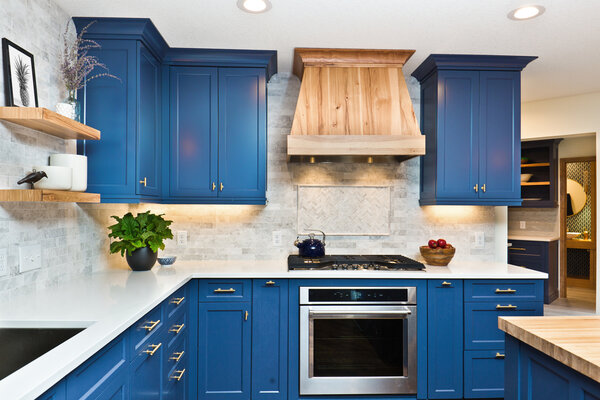 In short, cabinet painting is easy, cost-effective, and can completely enliven a home.
Keep reading to learn more!
Cabinet Painting is the Easy Way to Renovate
Cabinetry is an investment that can last a long time when properly updated. At Five Star Painting of Jonesborough, we work with property owners and property managers to ensure they get a complete upgrade without the big price tag.
Want to get the most bang for your buck? We're the Jonesborough cabinet painting company to turn to for a free estimate. You'll see very quickly from the price we offer that the total cost of renewing your cabinets is far less than buying new ones.
Cabinet Painting Can Make Your Cabinets Look Like New
Are your cabinets old? Even if they are decades old, our cabinet painting services can still make them look as good as new.
In one instance - some home buyers were attracted to a house largely due to a spacious, modern kitchen. The cabinets were nearly 40 years old but had been painted a trendy, modern gray.
This made the whole kitchen stand out and, consequently the whole house, as these buyers bought the home.
Book your free estimate. We'd love to meet you, look at your home, and discuss your project.
We're All About Creating Beautifully Refinished Cabinets
Five Star Painting of Jonesborough sends you experienced painters who know how to craft beautiful results for a broad range of cabinet styles.
We offer a level of workmanship and attention to detail that's unmatched in our industry.
The local cabinet painters we work with can refresh:
Built-in cabinets,
Shelving units, and
Stand-alone display cases.
We can restore different types of cabinetry, including products made of MDF and wood. We're your local cabinet painting experts. We'll know exactly how to update your cabinets with new paint.
Set up a free painting estimate with our professional estimator.
There Are Advantages to Renewing Existing Cabinetry
Why rip out those high-quality cabinets when a coat of paint can take care of the changes you're looking for? We know from years of experience that renovating your space doesn't need to be expensive.
We can provide you with Jonesborough cabinets painters who are skilled at getting the job done the right way. Your décor dreams can come to life with our help.
We recommend renewing over replacing because it's:
Convenient. Refinishing doesn't require the mess of pulling out old cabinets or waiting weeks for replacement cabinets to arrive from a factory.
Cost-effective. Paint is an inexpensive yet durable material that can completely transform the look of your cabinets.
Customizable. You pick the color you want. Cabinet manufacturers offer a limited number of finishes.
Schedule a free estimate for our cabinet painting and refinishing service in Jonesborough.