High Quality Paint and Products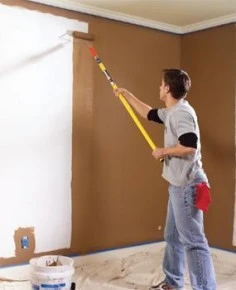 An inside-look on the high quality paint we use on the job.
A feature of our business we often mention is our discounts on high-quality paint. In order to reach the best results, we use the best paint. The issue with lower quality paints, such as brands bought from Home Depot or Lowes, is they contain a cheap, watered-down formula that does not have the resilience, sealing strength, or shine as Sherwin-Williams or Benjamin Moore paint. As a result, the finished product doesn't look as good nor lasts nearly as long as better paint. That means more re-applications and an overall higher materials cost in the end.
What is "High Quality" Paint?
Stain and crack resistant
Mildew resistant
Cleanable
No air bubbles when applying the paint.
Strong adhesive
To have these qualities, the paint must contain:
More additives
More solids, like pigment and resin (or binders) – Higher than 30%
Fewer solvents
The above properties give the paint better durability and a longer lifetime, which are the essential two aspects of "high quality" paint that make it high quality. Again, it's a higher upfront cost, but an overall lower cost per year and the quality of the results are much higher than a cheap hardware store brand.
Within high-quality paint brands, there are also varying levels of quality for each product. The graph below shows comparisons of Sherwin-Williams products. Of course, the higher the quality, the more you pay for it.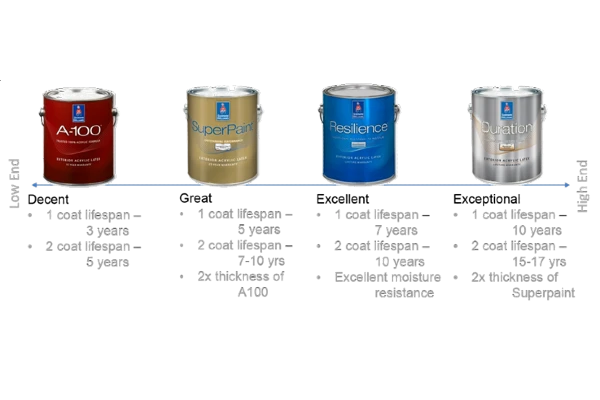 Paint Products for Contractors
So, what kind of paint does Five Star Painting use? Different types of paint are needed depending on the area and project. Some paint is meant for interiors, while others for exteriors. Virginia weather conditions require an exceptionally resilient product for exteriors, more so than maybe interiors. Below are the brands and products we paint with and the types of projects we use them on.
Sherwin-Williams
SuperPaint Interior Acrylic Latex Paint
This high quality paint has all the essentials for an interior coat. It's self-priming, hides well, durable, cleanable, and has a rich finish. Pretty super.
We paint with SuperPaint on interior walls and ceilings for most of our interior painting jobs. We use a satin finish on bathroom walls, flat finish on the rest of the walls and ceilings , and semi-gloss for trim.
Pro Mar 200 Zero VOC Interior Latex Paint
Pro Mar 200 is our second go-to option for interior paint. It is made with a Zero VOCs formula, meaning it doesn't disperse strong fumes like other paints. We paint with Pro Mar 200 in interiors for customers sensitive to paint fumes, including those with small children and animals.
Duration Exterior Exterior Acrylic Coating
Duration lasts through the crazy fluctuations of Virginia weather, can be applied under cold temperatures, excellently hides cracks and peeling, and is self-priming.
This is why we use it almost exclusively on our exterior jobs. We use a flat finish for siding and gloss finish for trim and doors.
Deck Scapes Exterior Acrylic Solid Color Deck Stain
We use Deck Scapes for deck staining. It's resilient to the weather, scuff-resistant, and seals decks well. Provides a decent lifetime and does an excellent job at preventing mold, algae, and mildew.
Some other Sherwin Williams products we use include Cashmere, Duration Interior, and Emerald.
Benjamin Moore
Advance
Our painters prefer Advance for cabinet painting projects. It is a hard drying, self-leveling enamel paint, which is easier to apply horizontally and creates an easily wipeable and sandable finish.
We normally choose it in a glossier sheen to create a nice contrast to flat wall paint.