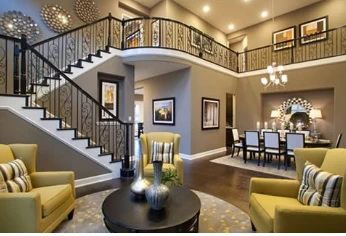 Each sheen has pros and cons, and everyone has their preference. Use the guide below to help you decide what kind of shine, or no shine you want on your walls.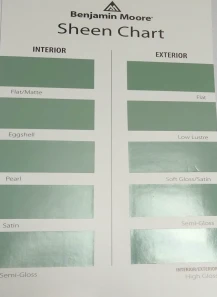 Flat: If it's drama you are after, then a flat finish is for you. A flat has not gloss and it minimizes wall imperfections and is easy to touch-up. It's perfect for ceilings,accent walls, and low traffic areas. Sounds great right? Only con is you can't wash the walls as it the water will wear down the paint and can cause a burnish mark.
Matte/velvet: In our crazy schedules we are always searching for balance, or the happy medium. Luckily in the world of sheens, matte does that for us. It's the lowest sheen that is fairly easy to touch-up, helps minimizes imperfections and you can wash it. This is one of the most used sheens.
Satin/eggshell: We do our best to take care of our homes, but accidents happen. Like when the kids eat all the fruit snacks in the cupboard and then race down the hallway back to their playroom, of course touching all the ways as they do so. Satin is your go-to in this case. It is mid-level gloss that is very easy to clean and does great with areas that are subject to moisture such as bathrooms or kitchens. Although, it does show more wall imperfections as it has more light reflection and touch-ups are harder to match.
Semi-Gloss:We all like a little shine in our life, whether it be the sun on the beach or the paint on our walls. This very easy to clean sheen, is perfect for trim, doors and crown molding. It gives you just enough gloss without overdoing it.
Gloss: This sheen is not for the faint of heart. If you are looking for some glam and shine this is perfect for you. It does great on baseboards, trim, doors and so forth. Although because of the light reflection it would not be recommended for older walls, as the imperfections will be reflected.