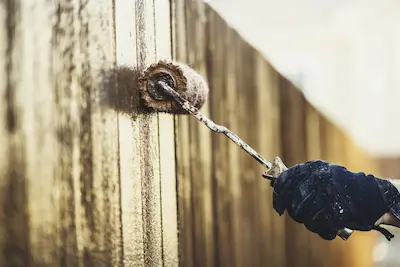 Upgrading Your Fence? Here are Some Determining Factors on How to Proceed
Are you ready to add the finishing coat on a brand-new fence? Do you have an old, weathered, and warped fence that desperately needs a transformation? It can be tough to decide whether to add paint or a stain when upgrading a fence.
Today, Five Star Painting of N Kansas City, MO is here and ready to help homeowners overcome this common design barrier. We understand that painting and staining each entails unique pros and cons. Our goal is to help you consider all the factors necessary to make a confident decision.
Always Consider Durability
Painting or staining a fence is not a minor endeavor. Sure, it's not rocket science, but most homeowners will want their new paint or stain to survive for a significant amount of time. This desire rings true regardless of whether one takes a DIY route or hires one of our specialists.
Because fences are outdoors, they are constantly subject to the natural elements and thus suffer a decent amount of regular wear and tear. Local weather conditions, rainfall, and temperatures can have a considerable impact on how long your fence maintains its appearance. As a result, it's wise to do everything you can to maintain both types of finishes.
We recommend staining your fence if maintenance and durability are your top priorities. Stains tend to show their wear and tear more favorably since they penetrate deep into the wood. On the other hand, painted fences can chip, peel, bubble, and blister quite quickly and easily. Furthermore, a stain is easier to reapply without any noticeable blemishes.
A Cost-Analysis of Painting vs. Staining
The costs of painting a fence vs. staining a fence can be tricky. Unless your budget is tight, we recommend considering the long-term value of your investment. Choosing the cheaper, upfront selection can cost you more in the long run. Paint is usually less expensive at the start. However, you'll likely need a few gallons of paint, primer, and expensive paint instruments.
Per ounce, stain products tend to be more expensive. Nevertheless, staining projects tend to require less product and provide more durability. All things factored, painting and staining cost about the same when all costs are calculated.
At Five Star Painting of N Kansas City, MO, we're happy and ready to offer an honest, straightforward cost estimate for your deck staining or painting project. Our team will assess your needs during an in-person consultation and offer you a no-hassle, upfront quote free of hidden fees.
A Quick Examination of the Ease of Application
Stains are overwhelmingly easier to apply to a fence. They can be applied quickly with no more than a garden pump sprayer. It is also possible to spray paint with a handheld device, but this specialized equipment is more expensive and requires expertise. Another significant downside of painting wood is how time-intensive sanding the surface smooth can be.
Stains are also more aesthetically forgiving. They soak into the wood instead of spreading and drying along the surface. This absorption means you'll not be forced to deal with drips, streaks, and other blemishes. Furthermore, a painted fence will need to be sanded whenever a touch-up or new coat is added. Sanding is essential to avoid surface inconsistencies due to peeling and flaking paint. On the other hand, stained fences simply need to be washed in preparation for a new coat.
Lastly, paint offers increased versatility when applied during extreme weather conditions. Paint can be applied anytime it is not raining. For stains, we recommend avoiding application whenever the temperature dips below 50 degrees Fahrenheit. It's also wise to check the forecast to ensure there is no rain for at least 3 days. Because of these precautions, painting a fence is often the optimal solution during the winter season.
Consider The Surface Material & Desired Color
Paint is the best choice if you're looking for a vibrant, dynamic, and loud aesthetic appeal. With paint, your color selection is endless. With stains, there are certain limitations. While manufacturers have created varied hues and solid stain options in recent decades, the overall inventory remains limited compared to paint.
Finally, consider the wood type of your fence and the current finish before painting or staining. For example, cedar wood does not hold paint well. Moreover, paint can damage cedar wood's look and lifespan. Similarly, rough-sawn wood requires significant prep work when applying paint. On the other hand, certain woods don't work well with stains. For one, stains will not soak into pressure-treated lumber as deeply as they will soak into raw wood.
Professional Fence Staining and Painting Services
The decision to paint or stain your fence is ultimately up to you. Painting a fence can add a fun and dynamic curb appeal. Staining a fence can elegantly preserve the raw look of the wood. Both finishes can help prolong a fence's lifespan by protecting the wood.
Whatever method you choose, Five Star Painting of N Kansas City, MO is ready to help. Our painting pros will follow expert processes at every stage. We can make preventative repairs, pressure wash an old fence, and sand the wood before treating it! Our team utilized state-of-the-art tools and techniques to deliver outstanding results every time.
Still uncertain about whether paint or stain is best for your fence? Call us anytime! We'll look at your wood's condition and listen to your color considerations before guiding you to the optimal decision.