Do Painted Kitchen Cabinets Hold Up?
Yes, painted kitchen cabinets hold up over time.
If your cabinets were painted by professionals and if you keep them cleaned and maintained, your cabinet paint should hold up for 8 to 10 years.
The Cabinets We Can Paint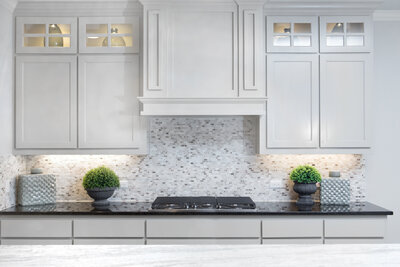 Although most people think of kitchens and bathrooms when they think of cabinets, you may have cabinets in other areas of your home.
We can paint cabinets in your:
Basement
Garage
Hallway
Bedroom
Kitchen
Bathrooms
Allow Five Star Painting of Pickerington to lend a hand. Our Pickerington cabinet painters would be happy to repaint your cabinets to improve their appearance and functionality.
Call us or schedule an estimate online for cabinet painting in Pickerington.
Honest & Affordable Kitchen Cabinet Painters Near You!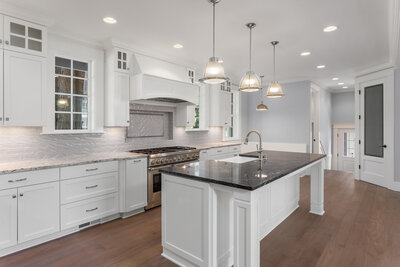 After years of use and daily wear and tear, kitchen cabinets may require a little updating. Tearing them out to replace them can sometimes be time-consuming and expensive.
Instead, if you have solid cabinets that just need a facelift, you can have them painted instead.
Cabinet painting is challenging, and the last thing you want to do is to end up with a sloppy end result. With us, you can rest easy knowing you are leaving the work to the professionals.
Professional Cabinet Painting in Pickerington
The painters we work with have years of experience and understand the ins and outs and details of preparation, disassembling, and reassembly. You will be left with only a beautiful set of like-new cabinets in the end.
Ready to get started with our cabinet painters in Pickerington? Call us or schedule an estimate online today!
Cabinet Painting is Cost-effective
When you replace cabinets or do a kitchen or bathroom renovation, you are looking at a tremendous investment.
Repainting your cabinets, on the other hand, can be a much more affordable option with equally pleasing results.
Cabinets make up a big part of these rooms, and updating them alone can significantly improve the appearance of the room without costing a fortune.
Cabinet Painting Saves Time
Besides saving money, repainting your cabinets will take a shorter period of time, which means you don't need to live without your essential rooms for nearly as long. Get back to your daily routine faster with a cabinet painting job.
Give us a call or schedule an estimate online from the best painters near you today.
Cabinet Painting | Frequently Asked Questions
Is it cheaper to paint or replace cabinets?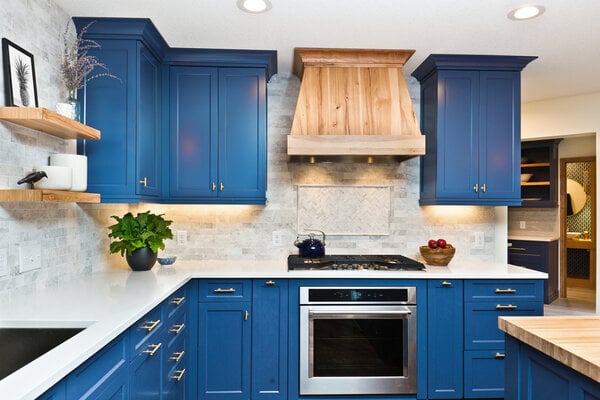 It's cheaper to have your cabinets painted than it is to have your cabinets replaced. Some new paint (and maybe some new handles and knobs) can really work wonders in your kitchen.
With professional cabinet painting, you can essentially have brand-new-looking cabinets without the hassle of having them replaced.
In one instance, a couple of first-time buyers bought a home largely due to the modern-looking kitchen. The kitchen cabinets had been recently painted a gorgeous grey which made the whole kitchen stand out.
The cabinets themselves were old, but the new paint job made them look as good as new. Our local cabinet painters can do the same to your cabinets.
How should newly painted cabinets be cleaned and maintained?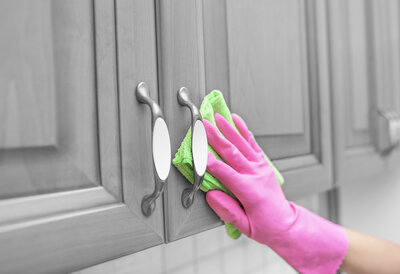 Keeping your cabinets well-maintained and clean can help the new paint last for years.
It's easy to clean your cabinets! Below are a few tips for how you can take care of your new painted cabinets.
Our Cabinet Cleaning Tips
Clean your cabinets with a damp, soft cloth (microfiber cloths are perfect!)
For dirtier spots, clean your cabinets with paint-safe cleaning solutions
Avoid using sponges, cleaning solutions containing ammonia, citrus, and petroleum
Don't clean your cabinets with wax
When wiping your cabinets, do so in a circular motion
Test your paint-safe cleaners on the back of a cabinet drawer or door (this practice protects the visible parts of your cabinets)
Do not hang wet linens on cabinet drawers or doors
Clean up spills and messes right after they happen - don't let them linger!
Is winter a good time of year for cabinet painting?
Just because winter isn't the best time for exterior painting doesn't mean you can't have other areas painted, like your interiors or cabinets.
As such, winter is a perfect time for professional cabinet painting. Especially if you need multiple areas of your house painted, getting your cabinets done in the winter leaves plenty of time during late spring and summer for your exteriors.
Looking for kitchen cabinet painters near you? Call or schedule your free estimate online today.