Selecting a paint color is an overwhelming task. However, once you've found the perfect color, many DIY painters are unaware of just how complicated selecting the right type of paint can be. Are you tackling a DIY painting project and need help finding the right type of paint?
Allow the experts at Five Star Painting to help.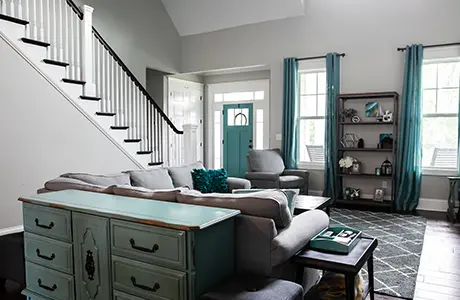 How to Choose Paint
Application
Let's begin with the basics, how are you applying the paint? Paint manufacturers have specific varieties of paint for different application processes such as brushing, rolling or spraying. Many paints work well with all types of application processes, but you'll want to make sure the paint you're using is compatible with your application technique.
Water vs. Oil Based
For DIY projects, water-based paint makes things easy. It's simple to clean up, has a low odor, and provides great coverage. Oil-based paint provides a durable and rich-looking finish but requires solvents for cleanup, has a strong odor, and takes longer to dry. Enamel paint is both water-based and oil-based and is very durable and cures to a rock-hard finish. This type of paint is best for kitchen cabinets and trim.
Location
Where you're applying the paint is also an important consideration. We don't have to tell you that there's a big difference between interior and exterior paints, but there are many different types of paint within those categories.
In some cases, it makes sense to buy paint with anti-mold-and-mildew properties and in others, it's not necessary. Anti-mold paints are great for bathrooms, but not necessary in bedrooms. In addition, different paint finishes exhibit certain characteristics that are ideal for moist, humid, or dirty environments; semi-gloss and high-gloss paint finishes are great for damp or dirty environments.
However, this doesn't rule out matte or satin finish for the bathroom; Sherwin Williams makes a matte finish paint that's easy to clean and doesn't hold onto stains. Certain paint finishes, like enamel-based paint, are also more suitable for different areas in the home such as doors or trim.
Remember, most homes typically have 3-4 different types of paint finishes, even if they're all the same color. For ceilings, flat or matte finish is best. Eggshell or satin is great for walls. And semigloss and gloss paint is perfect for trim or a room that you want to shine.
Coverage
Are you painting freshly primed walls, over bold colors, or over-aged barn wood? Coverage requirements vary for every painting project, and in some cases, high-quality (expensive) paint isn't necessary. In other cases, buying high-quality paint that provides more coverage will save you money in the long run if you need to cover up colors or imperfections. In addition, since high-quality paint contains more pigment, it covers up mistakes most DIY'ers make.
The type of paint you're painting over is an important consideration. Generally, you should only paint water-based paints over each other and vice versa for oil-based paint. Otherwise, you'll need to use a special primer to ensure proper adhesion.
Green Paint
Not the color! Eco-friendly paint is now easier than ever to find. Look for options that are low VOC and no VOC for low odor paint that doesn't off-gas harmful chemicals. Options may be limited to certain finishes or types of paint so be sure to take this into consideration while you're shopping. Exterior paints are not as eco-friendly since they need additives to endure the harsh weather, but this shouldn't matter as much since they're on the outside of your house.
To Prime or Not to Prime?
Just because some paint is "paint and primer in one" we still recommend priming with a dedicated primer if you're painting over bare drywall. Drywall soaks up a lot of paint during the first coat. Since primer is less expensive than paint, it makes sense to use this as a base coat before you paint with the high-quality (expensive) paint. Otherwise, it'll take upwards of three coats of paint to achieve what a single coat of primer and paint will do.
In addition, dedicated primer contains more of the ingredients drywall needs to give the paint a proper surface to adhere to. If you're painting over previously painted walls, you can skip the primer unless you're doing a dramatic color change.
Dry Time
Dry time is when the paint feels dry "to the touch." The time it takes for paint to dry depends on the temperature, humidity, and type of paint. Make sure you select a paint type that dries quickly between coats if you're on a deadline. Most water-based paint is ready for a second coat in four hours while oil-based paint needs up to 24 hours before you apply another coat.
Cure Time
Paint that is dry to the touch is still vulnerable to scratches, scuffs, and smears. Cure time is the amount of time it takes for the paint to bond to the surface and be safe to clean and wipe. Keep this in mind for your next DIY painting project—some water-based paints take up to 30 days to fully cure!
Paint Ingredients
Depending on the quality and intended use, paint is composed of four basic ingredients—pigments, binders, additives, and liquid:
Pigment provides the color, gloss, and coverage. Paint finishes with more pigment (like flat) will provide more coverage than high gloss paint.
Binders keep the ingredients together and help provide adhesion.
Additives are what manufacturers add to give paint good flow characteristics, mold resistance, or low odor.
The liquid, or solvent, is the base that helps keep all these ingredients together.
A good way to determine the quality of the paint is by the volume of solids. This information is on the side of the paint can. The percentage of solids is a good indication of the quality of paint; high-quality paint should exceed 40 percent solids. Paint with more solids is more expensive but typically provides more value, but this always depends on the project.
Remember, high-quality paint won't matter if you use sub-par equipment and neglect proper preparation and application techniques.
Help When You Need It
Painting even just a few rooms in the house may seem easy at first, but to do it right and ensure it'll look great for years to come, it takes a lot of time. The good news is that Five Star Painting is here to help. We offer free estimates and a color consultation service to help homeowners find the perfect color and finish.
We work with Behr and Sherwin-Williams, both leaders in the painting industry, and only use high-quality paint. If you're tired of looking for the perfect paint color and finish type, let us help. Give us a call at (888) 261-3633 or request a free estimate online!