What Interior Painting Services Do We Offer?
At Five Star Painting of Bend, our local Bend interior painters know the secret to change the look of any home! We can paint any room, including:
Guest bedrooms
Kitchens
Breakfast nooks
Dens
Living rooms
Bathrooms
Master suites
Home offices
Playrooms
With us, our interior painting services in Bend, OR are all-inclusive. This means the actual paint application is just one part of the whole process. Some of the key components of the process include:
Performing the necessary preparation
Using the proper paint application techniques, and
Using high-quality paints.
These are just some of what's needed for a quality, and long-lasting interior paint job. Our Bend interior painters provide you with quality-driven services from start to finish.
Contact us today at to book your free estimate. You can trust our interior painters in Bend for customer-focused, quality-driven™ service.
Need Help Choosing Colors? We Offer Color Consultations!
Color trends change from year to year. As such, our color consulting services can be vital for making design choices.
Here are a few things we can do with colors:
Bring warmth to your home
Create a space of tradition and belonging
Bring fun and inspiration to a room
Brighten up a space
There are countless colors to choose from. If you're staying in your home for years to come, the sky is the limit for color options.
But if you're moving, some colors are better choices than others. For example, neutral colors - like tan, grey, and white - can appeal to a wider audience.
We're the pros! We can help you pick the right colors for the occasion.
We Handle All the Prep Work!
Did you know prep work is one of the most essential components of a quality paint job?
At Five Star Painting of Bend, we don't cut any corners in the prep process so you're left with a long-lasting paint job. Some of our prep work includes:
Cleaning your walls
Repairing damaged drywall
Filling holes in your walls
Priming
Applying painter's tape
Laying down drop cloths
Procuring all the paint and materials
Call us today at or reach out to us online to book your free interior painting estimate in Bend, OR! We're customer-focused & quality-driven!
What Are the Benefits of Professional Interior Painting Services?
A fresh coat of paint is a fast, economical way to improve every room. Whether you're moving or staying - professional interior home painting has many benefits!
Moving? Improve Your Home with Interior Painting!
Are you planning to sell your home? You can improve your home's value with some professional interior painting. In fact, house painting of any kind is one of the easiest and most cost-effective ways you can improve your home.
Having your interiors painted is a task your potential buyers would need to handle. This can make their lives easier!
Staying? Enliven and Maintain Your Rooms with New Paint!
Did you know your interior rooms will probably need to be painted every 2 to 10 years? Ultimately, a more precise timeframe depends on the room and how much traffic it receives. For example, your bedrooms shouldn't need to be painted as frequently as your bathroom or kitchen.
Looking for an Easy Way to Transform Your Home? Our Interior Painters Can Help!
Painting is an interior update that pays off instantly! A new color can change everything about a room. It can affect the way rugs and accessories look and the quality of light that fills the room.
With Five Star Painting of Bend, you'll get the support you need to complete your project on time. We leave behind the crisp, clean lines and sharp finishes, indicating professional work.
Call our Bend interior painters today to see how we can enliven your rooms!
Why Choose Five Star Painting of Bend?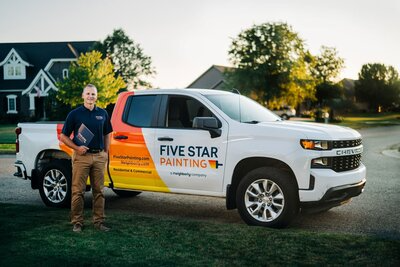 At Five Star Painting of Bend, we're customer-focused and quality-driven. This is at the center of everything we do!
For instance, our estimators aren't covered in paint! They're in uniform and even put booties on before entering your home.
Further, we warranty our services for your peace of mind.
And - we're backed by a great reputation! Check out our testimonials page to see why customers love our services.
At the end of the day, we're the interior painting company you can trust to help you fall back in love with your home.

Call our Bend interior house painters today to book your free estimate! Call us at or reach out to us online.