Decorate Your Dining Room: decorating ideas to give your dining room new life

Is it time to decorate your dining room again? From painting to accessories, here are a few ideas to help get your dining room looking fabulous for your next dinner party.
Paint
If you are looking to really change up the look and feel of your dining room, then a fresh coat of paint is a great place to start. If you have a dining set, then of course keep that in mind when choosing your new colors, unless you are feeling really adventurous and want to get some new furniture while you are decorating. Your choice.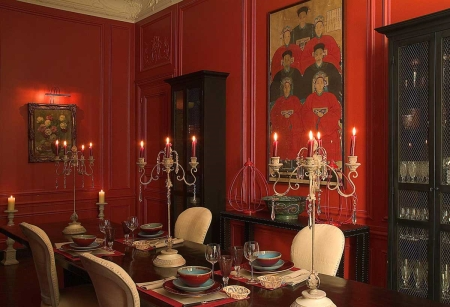 Paint the dining room to match your favorite piece of art.
I like to get my color inspiration from either a favorite piece of art or something else that I want to be a focal point in the room. You may also choose to select your colors based off of the new upholstery you are having your chairs recovered in. Whatever inspires you, bring it with you to the paint store. As I have said before, don't buy the paint until after you have taken home the chips and taken some time to paint a sample spot or poster board to make sure the color actually looks the way you thought it would in the dining room.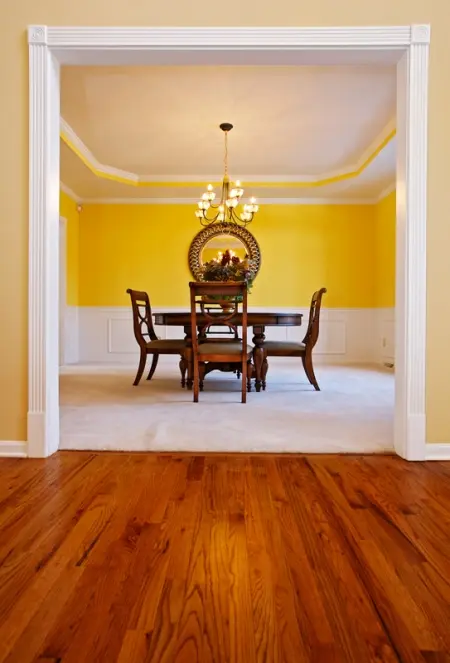 Choosing a main focal point in the dining room is a great place to start when selecting a new color
Furniture
You may want to try painting just one piece of furniture an accent color to either tone down or brighten up the room depending on the colors you have selected. This is also a great option if you don't have time to paint the whole room but still want to add some character to the room to cheer it up a bit.

I like the buffet table as an option to paint a different color than the rest of the room. You can sometimes find used ones with personality that could use some tender love and care at a second hand store. It just might become your favorite item in the room when you get done with it, especially if you treat it to some Chalk Paint by Annie Sloan. That's a bunch of fun and a super easy way to cheer up an old piece of furniture.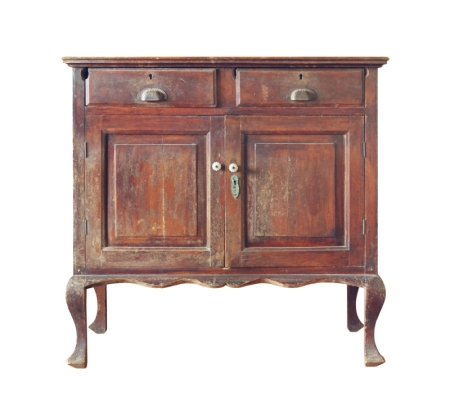 Imagine a buffet table like this with a fresh coat of Chalk Paint.
Upholstery
If you paint the room a whole new color you are going to need new curtains and, as mentioned above, you may need to reupholster the chairs. It's going to look fabulous!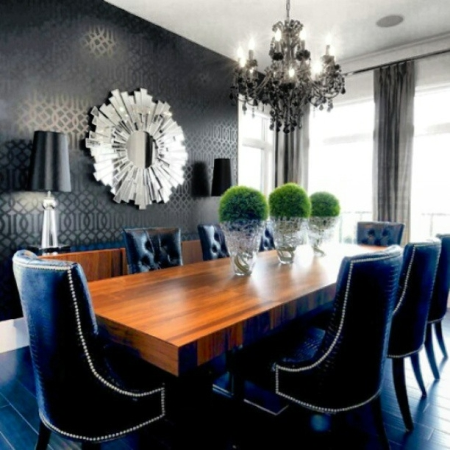 Consider reupholstering your dining room chairs to create a striking, new look.
Light
Light Fixtures: What dining room is complete without beautiful lighting to create the perfect ambiance for entertaining over a perfectly prepared meal and good friends? As light fixtures tend to be a visual focus in the dining room take care that it's clean. If it's not working with the new image you are going for in this room, then take a trip to the store and find new lights.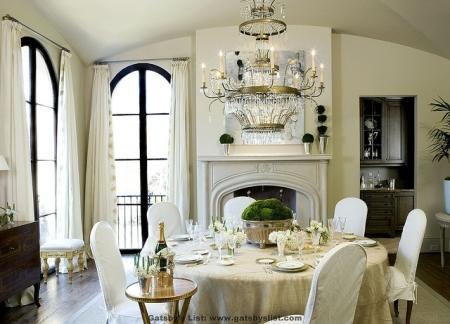 This dining room is beautiful! The chandelier is well suited to the size and design of the room.
Art
Every dining room needs at least one really stunning piece of art. Take care to choose a piece that is the right size for the wall you are putting it on. Or maybe you like a collection of framed art all on one wall. You can take your series of themed images and put them in picture frames you have painted the same color to complement the art and perhaps help pull the room together. I love it when that happens; you add that one piece that makes everything click or fall into place. It's great!


Choose a fantastic art piece as a focal point in the dining room
Details
Time to add the finishing touches to the room like a big, beautiful vase with the perfect flowers or fanciful twigs, if you aren't into replacing flowers all the time.
Also a table runner is a good plan as well. This is a nice opportunity to show off any hand crafting skills you might have, like crocheting or quilting, if you are into that kind of thing. Look on Pinterest for some good ideas and get started. The great thing about table runners is they don't take a lot of time to make – unless you have a really big table where the host and hostess have to nearly yell to have a conversation over dinner. Otherwise check out your favorite Etsy.com store or local boutique and see what they have to suit your fancy.