8 Elements of Home Office Design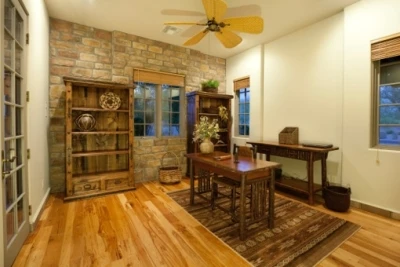 A home office is a necessary and often overlooked element of a home. There are so many responsibilities of owning and running a home and family that involve paperwork and desk time. If you are someone that works from home then you know how important a functional office space is. Having a specific location to do your work can help you to get it done more efficiently. I personally work better when I have an established place to work. In the interest of establishing such an area we will discuss elements such as location, wall color, furniture, décor and organization.
Location
If you home doesn't already have a specific room designated as the office or study, then identify the room in your house that will best serve the purpose. This may be a spare bedroom or some other room that isn't really getting used. You decide. If you really can't dedicate an entire room to an office area then maybe you have a corner in a room somewhere that can fit a modest desk and filing system. I am going to assume that you do have an entire room to dedicate to an office space, which means next we will choose a new wall color.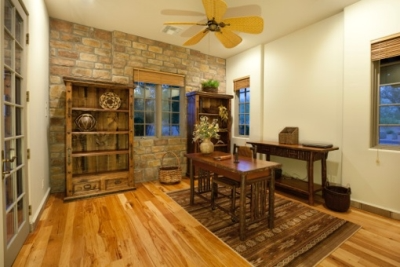 Ideally you'll have a room in your home you can dedicate entirely to office.
Color
Color is a super important detail. The wrong color can have a negative effect on your desire to spend time in this room and can even hinder productivity. Pay special attention to your personal color needs. If you need a bright cheery color to keep you upbeat and mentally engaged, try an orange or red. If you need a calmer environment look at some subdued greens or teals. For more ideas on color choice for your home office check out "Paint Your Home or Office for Success" on Forbes.com.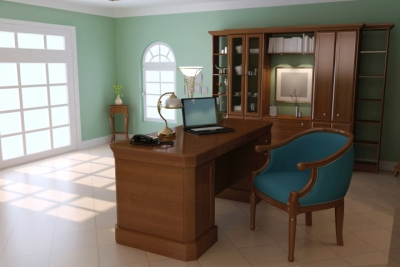 Teal's and green's are a great color choice for an office.
Desk
A proper desk for your needs is of course key. You need to like sitting at it because let's face it, sitting at a desk doing bills or that report you've been dreading is not exactly fun, sitting in your office at a desk you like is the least you can do to help yourself out.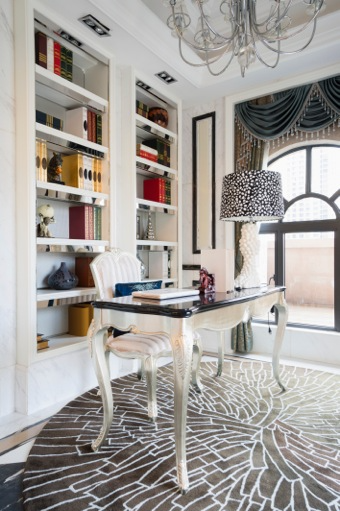 Get a desk that fits your needs for size, function and design.
Chair
A chair is just as important if not more important than the desk. Choose a chair that fits your body and promotes proper posture while working. Don't forget to think outside the box a little too. This is your home office, you can have fun with your office furniture. It can fit your personality and your lifestyle, like the awesome chair in this picture.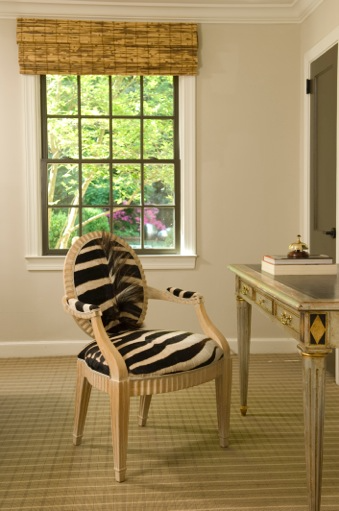 Choose a chair that fits both your personality and your body .
Light
Light is important to improve concentration, and to prevent headaches and eyestrain. Make sure there is a lamp on the desk if you are doing any kind of paperwork, you will be glad it's there. Also, no fluorescent lights. Yuck! Save those for the cubicle. This is your office in your home; choose a light fixture that is beautiful and not fluorescent.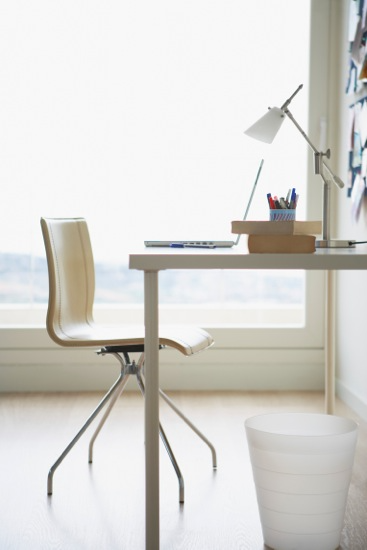 Proper light at any work/study area can help to improve concentration.
Art
Everything in this home office space should be either necessary, useful or inspiring. If it doesn't fit that criteria, get rid of it. Having a few nice things to look at in your office is a good thing. On HGTV.com they suggested creating a "shrine" of sorts in your home office using things that either inspire your creativity or motivate you to get your work done quickly, such as framed art and photographs of people you love. Definitely put some beautiful art on the wall. Having art and other decorative items in the room can help to inspire you and keep the wheels turning in your head. Etsy.com has a really neat selection of art that is both beautiful and inspiring. Take a look!

Add a few things to the office to make it more inviting.
Organization
A filing system is important in any office and especially in your home office because you are busy and the paperwork that comes with running a household is important. Often when you need paperwork, you need it now. Do yourself a favor and set up an organization system that works for you so you can find everything fast. If everything has a place ahead of time it will be harder to sweep the mess under the rug, so to speak, because you have a place for everything and there is no good excuse to not put it away.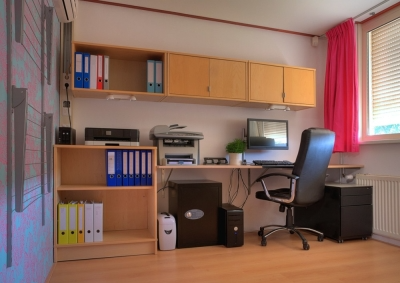 Set up a filing system to help keep your office clean, organized and functional.
Office Supplies
If you haven't taken a trip to Staples in a while then you ought to, especially if you are organizing your home office. They have turned office supplies into a thing of beauty. Even the file folders are fun. Trust me, this trip to the store will have you excited to go home and organize your paperwork, and set up your desk.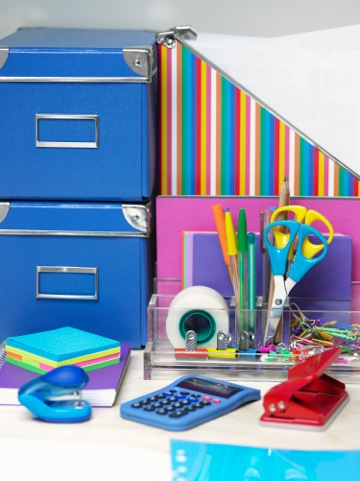 Fun office supplies may make your paperwork duties more bearable.
Here is a link to a bunch of inspiring home office examples on HouseBeautiful.com. Do take a look, they are really beautiful.
Between choosing a location and wall color, finding fun and functional office furniture, and decorating and organizing your office, there is a lot to get done and it's going to look great! For more ideas on improving your home and office space follow Five Star Painting on Facebook, Twitter and Pinterest. Follow us on all three or choose your favorite one.