Ceiling Color and Design Ideas

Ceiling color and design in most residential interior design is often overlooked as a area for creativity. While plain, white ceilings work, they are not visually interesting. Because the ceiling is a significant surface area, why not have some fun with it? There are so many things you can do to add interest to the ceiling and draw the eye up. These design options range from the simple to the extreme. One way you can add interest to your ceiling is to add texture or a pattern either by installing beams or a coffered ceiling design. On the other end of the spectrum you can do something simpler by painting the ceiling a color other than white.
Many homeowners are increasingly focused on renovating their ceilings to promote the aesthetics of their interior space. This includes incorporating different designs, textures, styles and colors to give your ceilings a personalized touch. You can now transform your ordinary ceilings into canvases that increase the décor appeal in your space. Let us go over the types of ceilings that are available, the ceiling color combinations that can enhance their aesthetics and trends in ceilings that can give your interior space a makeover worth investing in!
Types of Ceilings
Contrary to popular belief, a ceiling can be constructed to enhance the functionality of the space. For instance, concave ceilings can promote the acoustical value of your space and work well for indoor audio applications. Here are some common types of ceilings that you can invest in: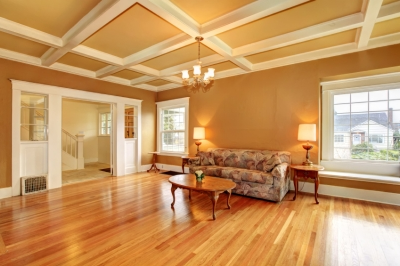 Coffered ceiling plus a warm paint color draws the eye up and emphasizes the pattern.
Coffered ceilings – Consist of sunken panels and can be used for both structural and decorative applications. However, coffered ceilings require extensive remodeling and are generally expensive, both in material purchase and installation. Natural wood and earth tones work best with these ceilings. Overall, they are versatile and allow natural light to enhance your interior space.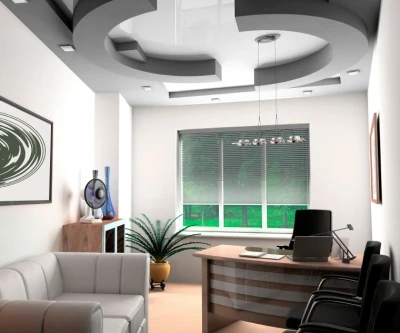 That super glossy part of the ceiling is the stretch ceiling.
Stretch Ceiling – Generally made from PVC and other stretchable materials, stretch ceilings offer a great deal of creative freedom and flexibility. Stretch ceilings are relatively affordable but do not offer the same durability as coffered ceilings. Dark tones can work well with these ceilings. Overall, they are great ceiling types and should be considered if you're living in colder climates.
Hollow-Core Slab Ceilings – Not only are they lightweight, they also offer a great deal of strength. This makes slab ceilings ideal for multi storey homes. Glossy and natural tones work best with these ceilings. However, there is little variety in designs and styles. Overall, a great material but rather unfashionable.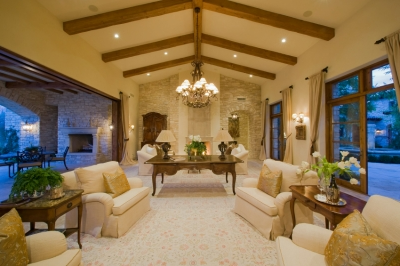 Beam ceilings embrace the actual structure of the building as part of the decor.
Beam Ceilings – Traditional ceilings feature load bearing beams that account for strength and structural integrity. While variety is available, you will have to invest significantly in remodeling and installation. While it is advisable to leave the ceiling color as is, you can always work with wood textures and tones. Overall, an ideal ceiling type but not practical in remodeling.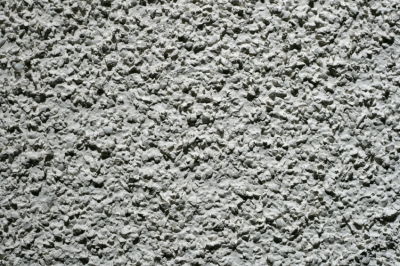 Popcorn ceiling texture.
Popcorn Ceilings – Also known as vermiculite ceilings, these types offer good fire and sound proofing. Variety is lacking, but you can always make do with rustic ceiling colors. Overall, a good material, but rather outdated.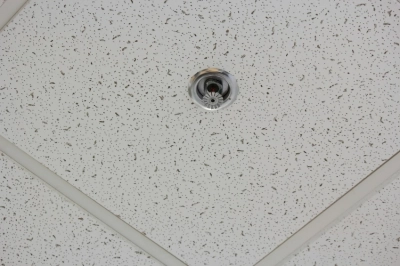 Dropped ceiling tiles, usually found in offices.
Dropped Ceilings – Dropped ceilings, also known as, suspended ceilings, generally hang a few inches below the main ceilings. They are relatively inexpensive and available in a variety of designs and materials like wood, metal, plastic and even mineral fibers. Your imagination is the only thing holding you back in terms of ceiling colors with this type. Overall, a great material and has impressive variety in ceiling colors.
Now that you're familiar with different types of ceilings, let's get started with the color guide!
The Color Guide & Trends
For the longest time, white has been considered the ideal ceiling color in terms of safety and appeal. While you can always color your ceiling based on your preferences, you should address the pros and cons of each color. For example, light ceiling colors against darker walls will make them appear higher, while dark ceiling colors against light colored walls make them appear lower.
The source of light should also be considered when choosing ceiling colors. For example, sky blue or blush pink ceiling will create a cozy feeling against natural light, yet tomato red ceiling will produce an exotic glow against lamplight. Remember that the ceiling color will play a major role in enhancing the character and appeal in your space.
If you want to give your colored wall a sharp and crisp look, white ceilings are often deemed as the perfect choice. However, you can always work with contrasting colors on your ceilings to further enhance the aesthetic appeal. Pale peach, butter yellow, warm tan, blush pink, sky blue and celadon green are all fantastic ceiling colors to work with.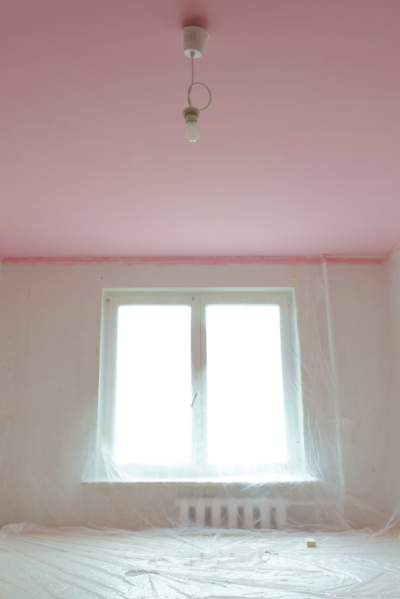 Painting the ceiling can be messy, you're going to need a lot of plastic to cover the walls and floors.
Ceiling color and design ideas that go beyond the conventional interior design concepts may seem like a daunting idea to commit to. If you like the idea and you are excited about it, do it. If you haven't done a lot of painting before, ceilings can be tricky, consider getting someone with more experience to help you. Your new ceiling color design is going to look great