How Decorating with Red Effects Different Rooms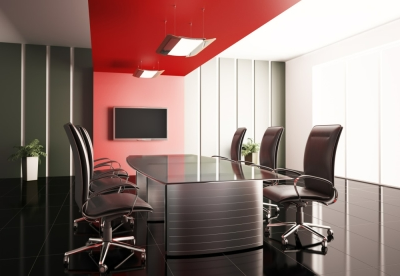 Decorating with red provokes a strong response. I don't care what the color is used on, if it's red it gets attention. Red is an energizing color that excites emotions and motivates action, like stop signs, red alerts and Valentine's Day. In decorating, red makes a statement and different shades of red create different feelings for the room it's applied to. If you are going for red choose the shade wisely and consider which room you choose to decorate with it. Here are some tips for decorating with the color red in various places and the effect it may have.
Workplace
In the office, red is a great color because it promotes energy and excitement and promotes brainwave activity, all good responses to have while your are working. If you want your employees to be enthusiastic at work consider painting accent walls in red. Don't overdo it though, too much red can have a negative effect, like panic, anger and aggression. An accent wall here and there should do it.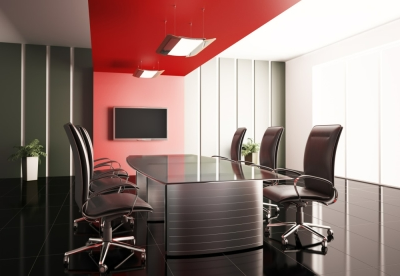 If you want your employees to be enthusiastic at work consider painting accent walls in red.
Dining Room
I have mixed feelings about painting a dining room red. It's a great color for a dining room and depending on the shade you choose can create a very elegant look. However, they say that the color red stimulates hunger. If you have children that don't like to eat their food or you yourself forget to eat then red may be the best color for a kitchen or dining area but if you are trying to watch your waistline then choose a more calming color for the dining room like green.

Red dining rooms are very elegant looking, but be aware that red stimulates hunger, depending on your needs you might not want that effect.
Living Room
A room where you receive visitors is a great place to make a statement. Red, as we discussed earlier makes a bold statement. Red is a warm color and may have a nice effect on a cold winter day. However, it's also known to increase heartrate, raise blood pressure and stimulate aggression. If these are not the kind of experiences you want your guest to have then red might not be for your living room, especially if you like your visitors to stay for a while. But if you don't appreciate visitors then red walls may subconsciously encourage your guests to leave sooner. It's your choice.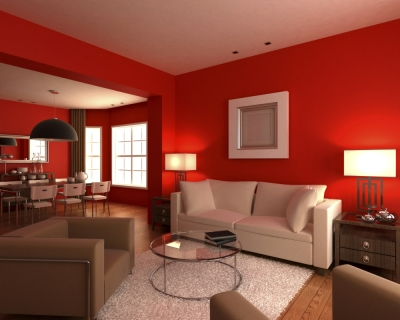 That's a lot of red, but in such a larg and open room it works well.
Home Gym
A home gym is not a place to paint entirely red because it may make you subconsciously want to leave the room, because no one needs help to stop exercising. However, much like some of the other rooms we have discussed an accent wall in red may be just the ticket to help you have more successful workouts because of its energizing effects.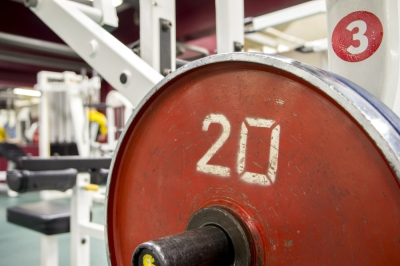 Decorating a gym with red accents may actually help your workout.
Child's Room
Children are so full of energy, it's my personal belief that a child's bedroom should be decorated to help them calm down and go to sleep. If you really must decorate your son's room in fire engines then use red as an accent and not at the main color. My mother wanted to help my brother calm down as a child by changing out the red carpet in his room. Before you start questioning our taste in decoration, remember it was an old farm house that had been renovated in the 70's and we were working on updating the house as the budget permitted. To my mother's dismay new carpet was not in the budget.
Bathroom
I am not a fan of intense colors in a bathroom, especially if the bathroom is where you put your makeup on in the mornings, because light reflecting off of the wall colors effects the things it surrounds. A more neutral color will help keep your skin tone and makeup colors from looking strange in that room. Then again, if you have limited bathrooms and a few teenage girls then a completely red bathroom might help move them along and get them out of there quicker. Red walls in a small space like a bathroom makes the room feel smaller, as though the walls are closing in, and can create a sense of urgency.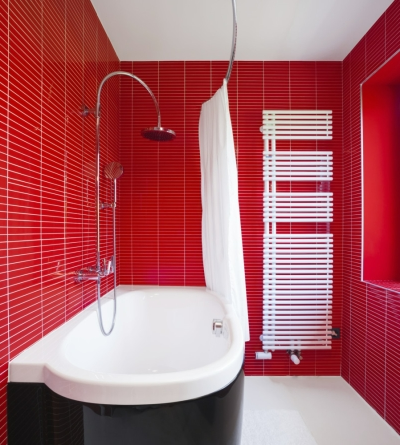 Theoretically, a red themed bathroom might help speed up the traffic in that room if you have a bottleneck problem.
Accent Color
Red is a great accent wall color! It adds just enough color to make a statement without overwhelming everything and everyone in the room. Consider painting the walls below the chair rail around the room red or even a stair rail leading upstairs. Contrasting red with white, yellow or even black, look great together.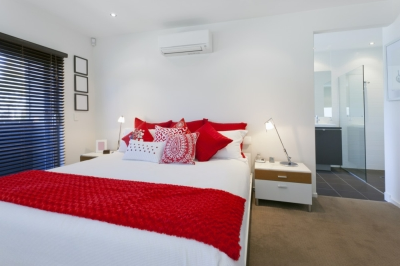 Maybe it's because of Valentines Day, but I love red and white together!
If you like red but don't want the commitment of a red wall, try accenting with red pillows and a throw or get a piece of red furniture. A bold piece of red furniture is still a strong and fashionable statement but without the daunting commitment that red paint can seem like. Consider painting below the chair rail around the room or ever the rail on a staircase against a white wall.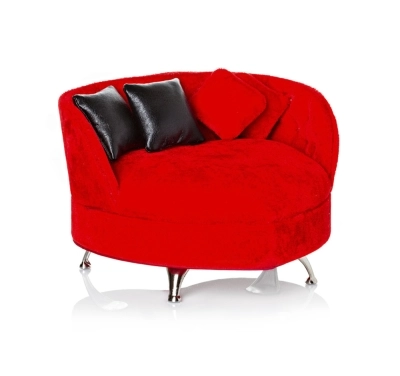 A red piece of furniture is a great way to add a bold statement to a room.
Decorating with red is a bold and beautiful choice for your home. I am so excited to see what you come up with! Share your ideas with us on Pinterest. For more decorating ideas follow us on Facebook, Twitter or Google+. See you there!