Beautifully Painted Ceilings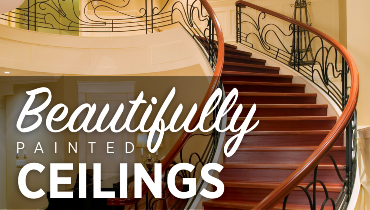 Have you spent hours comparing swatches, trying to decide what colors to paint your walls, but nothing seems to quite fit the space? Does it seem like something is missing, no matter what combination you review? Maybe you are missing something: the ceiling! A growing trend in interior design is painted ceilings, and by not considering this surface in the room, you may be missing the key element to tie your color scheme together perfectly!
Color Concepts to Consider
The idea of tying together the overall color scheme and fixtures of a room through decorative painting is part of the painting ceiling hype. The general rule of thumb is to paint the ceiling at least one to two shades lighter than the walls. This will give the room more height, make it feel larger, and by using a shade from the same color scheme, it will coordinate the room's design from top to bottom. If your home has acoustic (aka "popcorn") ceilings, we recommend hiring a professional to remove the old texture. This process can be very messy and time-consuming, however it will have beautiful results once complete.
If you want some out-of-the-box ideas for your ceiling, look at these ideas:

What You Need
Remember you'll be painting at a 180 degree offset to gravity. This means anything that falls or drips will either hit you, the furniture, or the floor. That being said, there are a few tips to remember that may help you minimize stains and get it right the first time.
First of all, we recommend choosing specialty ceiling paint. According to houzz.com, the mixture has a highly gelled formula that helps reduce drips. Since it's thicker, it will also be more likely to fill in hairline cracks successfully.
To protect yourself while painting while painting directly above you, you may want to consider purchasing a facemask or even a respirator mask. This will not only shield your eyes and face from drips, but will also help you avoid inhaling excessive fumes.
If you are vertically challenged, or shorter than eight feet tall, you might need to invest in a paint pole. Several variations exist, but it's best to look for one that features easy-to-use interlocking mechanisms between your paintbrush or roller and the pole.
Keep in mind, painting is an art, and it's difficult enough to get an interior paint job exactly the way you want it… even if you aren't directly fighting gravity! If you feel overwhelmed by the challenge of painting in high places, or worry about the damage that drips can do, we encourage you to hire a professional to complete your painted ceiling creation!