4 Benefits of Pressure Washing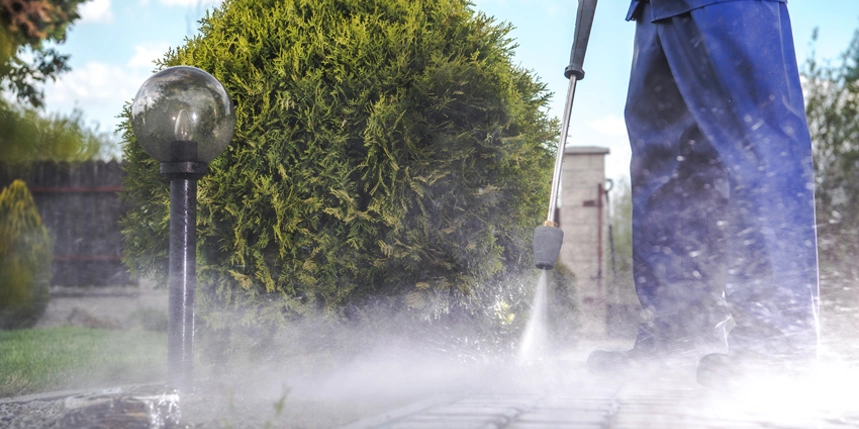 The exterior of your home takes a beating from the weather. Over time, dirt and grime accumulate on your home's exterior, which degrades the paint. This is why we recommend pressure washing your home's exterior every year to prevent premature wear on the exterior of your house.
Other benefits of pressure washing include:
Improved curb appeal
Increased home value
Identifies problem areas before they get worse
Ensures proper adhesion for new paint
Learn more about the benefits of power washing from the experts at Five Star Painting:
Improves Curb Appeal
Every spring, homeowners spend time updating their landscaping, and the home's exterior is no exception. Your home's siding adds to the overall look and feel of the property and should be free of peeling/chipping paint. This could be the difference between a sale or not, for some prospective buyers.
Increases Your Home's Value
According to Consumer Reports, a good pressure washing along with needed paint touch-ups and siding/brick replacements can increase the value of your home 2-5 percent. As mentioned earlier, these updates are crucial when it comes time to sell your home.
Preventative Maintenance for Your Home
Regularly scheduled pressure washings will prevent grime and mildew from deteriorating your home's exterior paint and prolong the life of your home's siding.
Identify Problem Areas
Pressure washing requires homeowners to wash and inspect every square inch of their home's exterior. This is a perfect time to look for rotted wood, cracked vinyl siding, missing weather stripping on windows, or problems that may otherwise go unnoticed until it's too late. When pressure washing, pay close attention to your soffits, window trim, exhaust seals, and other areas of your home that are often out of sight and out of mind. You may catch a minor problem before it turns into a big headache.
The Best Way to Prep a House for Paint
A good pressure washing is crucial when you want to update the exterior paint or stain. This is because it removes dirt and mildew that keeps fresh coats of paint and stain from adhering to the surface.
Did you know you can pressure wash more than just your home's exterior?
Pressure washing also works wonders on:
Fencing
Garage doors
Outdoor grills
Driveways and walkways
Patios and decks
Outdoor furniture
Swimming pools
Decorative signs and statues
While you can rent or purchase your own pressure washer, keep in mind that is quite expensive, time-consuming, and potentially dangerous if you aren't familiar with how to work one. Dangers include using too much pressure or the wrong nozzle, which can cause wrecked siding, water damage, broken windows and injuries to yourself or bystanders.
That's why we highly recommend you hire a professional like Five Star Painting for your pressure washing and painting needs! Although we don't offer pressure washing as standalone service, it's always part of our exterior painting services. Give us a call at (888) 261-3633 to find pressure-washing services near you or request a free estimate online.
Watch this video to learn more about how Five Star Painting prepares your home before painting!